Health department urges for more vaccines as 'system ready for 150,000 doses per day'
AstraZeneca vaccine to be integrated into plan from Monday in Catalonia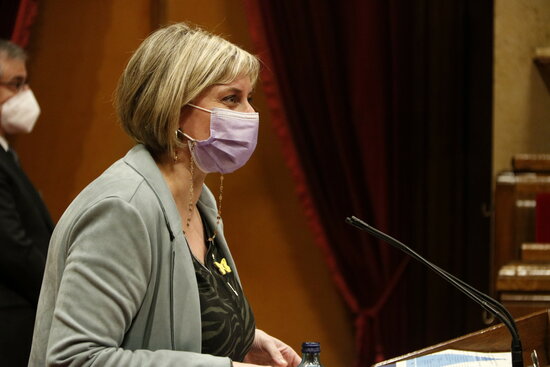 The Catalan health department has urged for more vaccines to be delivered, making clear that their system is ready "to administer 150,000 doses per day."
Health minister Alba Vergés presented an update to the vaccination plan on Friday, reminding that a mass administration of doses is possible since around 1.5 million people have been given the flu jab in two months, with peaks of 60,000 per day.
She still believes that achieving the stated aim of immunizing 70% of residents by the end of summer would be possible, "pending that the EU complies" with the supply of doses it has committed to.
AstraZeneca's first delivery and phases
Vergés also announced that the first shipment of the AstraZeneca one will arrive shortly, with 31,000 doses that will be used from Monday.
Thus, from next week, all three different vaccines currently authorized will be administrated for the first time, with 112,000 doses expected to be available every week. In order to reach a pace of 150,000 doses given a day, over 1 million doses would be needed to be delivered every week.
The public health secretary, Josep Maria Argimon, also explained that his department keeps March 31 as the end date for phase 1 of the vaccination plan – that is to say, care home residents and workers, and health professionals.
Yet, before that date, phase 2 will begin in parallel, with vaccinations of essential workers and 1.8 million identified at-risk people starting – the third and last phase includes all residents and is aimed to begin in June.
The estimations are for all care home residents who accept the inoculation – and the government aims for at least 80% that will – to be given both doses within two weeks.
Current figures
So far, barely 1% of the population are already fully vaccinated (88,697 out of the 7,722,203 residents as of February 4), with around 200,000 being given the first dose (2.5%).
When the current scheme began at the end of December, authorities pledged to reach 748,000 within the first term of 2021.
AstraZeneca cutoff age set at 55
The Spanish Public Health Committee has set the maximum age for receiving the AstraZeneca Covid-19 vaccine at 55. This means that over-55s in Spain will be given one of the other vaccines authorized for use in the European Union.
The decision was made after three days of deliberation when the possible age cutoff point of 65 was also discussed. However, authorities chose to put the maximum age at a decade younger.