Spain's judiciary head criticizes pardon of Catalan leaders
Carlos Lesmes says sedition convictions had "nothing to do with revenge"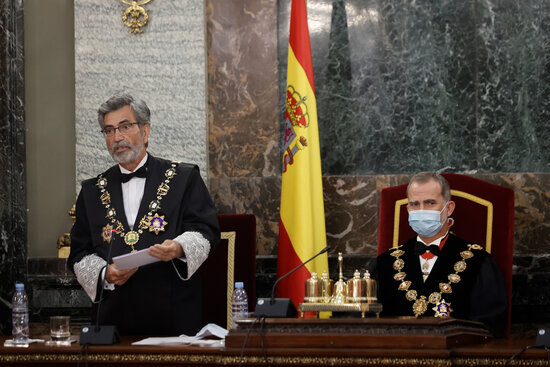 The head of Spain's judiciary, Carlos Lesmes, has criticized the pardons granted by president Pedro Sánchez to nine Catalan leaders sentenced to lengthy prison terms over the 2017 independence push.
"To justify pardons, they weighed concord against resentment, as if courts' enforcement of the law was an obstacle to coexistence," said Lesmes, implicitly rebuking the reasons invoked by Sánchez last June for freeing the pro-independence politicians and activists, who had spent more than three years behind bars by the time they were released.
As the head of the authority regulating Spain's judicial system, the CGPJ, Lesmes also presides over the Supreme Court, where the nine leaders were convicted in 2019, and the same court will rule on the legal appeals against the pardons.
Lesmes spoke at the opening session of the judicial year on Wednesday and in the presence of the Spanish king, Felipe VI.
He said that the verdict handed down to the nine leaders "had nothing to do with revenge," as argued by the pro-independence movement.
Deadlock to replace Lesmes
In his speech, Lesmes also referred to the ongoing political standoff between Spain's two largest parties, the left-leaning Socialists and the conservative People's Party, over the appointment of new chief judges, including a replacement for Lesmes himself.
Lesmes urged both parties to overcome partisanship and come to an agreement "in the coming weeks." However, Lesmes has ignored calls for him to step down despite his term having expired more than three years ago.
While the Socialists and PP were close to reaching a deal in 2018, negotiations collapsed following a leaked message scandal that revealed political meddling in the judiciary.
Manuel Marchena, the judge who presided over the court that sentenced the nine leaders, was expected to replace Lesmes as the head of the CGPJ, but backed out after leaked messages from a PP politician revealed that his appointment served the interests of the party, which believed that by keeping a majority of conservative judges they would be able to "control" the chamber trying the Catalan leaders "from behind the scenes."
With Marchena out of the race, PP blocked all efforts to appoint a new chief judge, and the Socialists accused them of "kidnapping" the judiciary.