Junqueras testifies at Catalan trial
Former vice president rejects prosecutors' questions on third day of proceedings in Madrid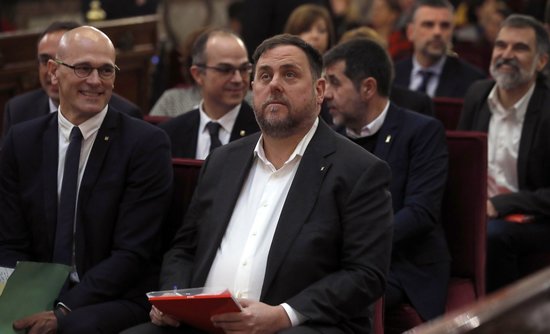 Oriol Junqueras, the former vice president of Catalonia and the most influential pro-independence leader that will face trial for the 2017 referendum, is set to give his testimony in Spain's Supreme Court on Thursday.
"I'm convinced that I'm being accused for my ideas and not for my actions," says jailed former vice president Oriol Junqueras, rejecting questions on third day of proceedings in Madrid.
On the third day of trial, and after defense teams and prosecutors spoke on the two previous days, the 12 politicians and activists accused in the independence trial are expected to testify.
Oriol Junqueras is the most senior political figure to face trial in the Supreme Court. He was the Catalan vice president and the finance minister at the time of the referendum, as well as the main independence leader along with then-president Carles Puigdemont.
While Puigdemont left the country following Madrid's takeover of Catalan institutions, Junqueras stayed and was subsequently incarcerated on November 2, 2017. While in prison, he ran as ERC's candidate for president in the December 21 election.
Pro-independence parties had held on to a parliamentary majority but lost it last spring when the Supreme Court suspended Junqueras and other MPs charged in the Catalan trial, and they rejected being replaced. Junqueras will have spent 469 days in precautionary detention by the time the trial starts.