Jailed leader Turull leaves prison for first time on a regular temporary release
Now all nine imprisoned officials are enjoying such leave to work or volunteer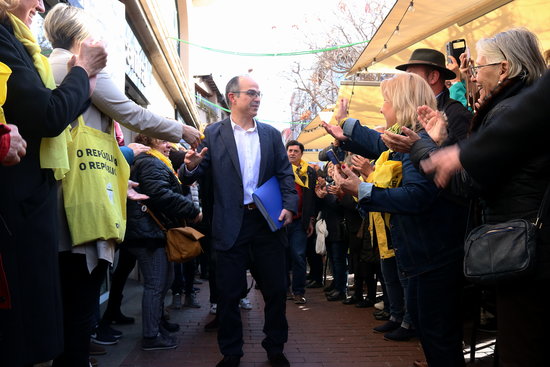 One of the nine political leaders imprisoned for organizing the 2017 independence referendum, Jordi Turull, left jail for the first time on regular temporary release on Monday morning.
He was granted leave of 12 hours a day, Monday to Friday, by the Catalan prison authorities, to work as public law expert in Badia lawyer's firm, in Terrassa, north of Barcelona.
Turull is the last imprisoned official to enjoy such regular leave to work, take care of relatives or volunteer – now all nine can be out of prison from six to twelve hours a day, from three to five days a week.
In all cases, they still have to spend all nights and the weekends behind bars – except for the 36 days of full leave a year that they all have.
Last week, Esquerra party leader, Oriol Junqueras, and the former foreign affairs minister, Raül Romeva, also began their leave for the first time. On Monday, Turull's party colleague, Josep Rull, also left jail for the first time since his imprisonment.
Spain's prosecutor had challenged the decision to allow the jailed leaders to enjoy regular temporary leave, although last week a penitentiary court dismissed the appeal in the case of the activist leader, Jordi Cuixart.
On Monday, the prosecutor's appeal against the former Catalan labor and social affairs minister, Dolors Bassa, suffered the same fate.