International Trial Watch report concludes violation of rights in Catalan leaders' case
International Trial Watch reports "massive" infringement of liberties such as freedom of expression and peaceful assembly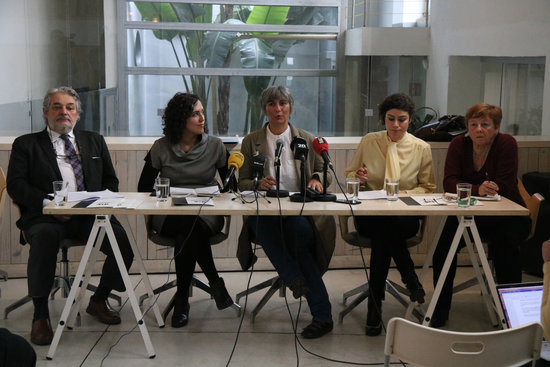 The International Trial Watch platform - Catalan Referendum Case presented its final report on the ruling of the Supreme Court against the Catalan independence leaders today in Madrid, concluding that the trial violated human rights in a "massive way."
Specifically, according to the platform, the Catalan Trial violated the independence leaders' right to the principle of criminal legality, right to liberty, freedom of expression, freedom of ideology, the right to peaceful assembly, political participation, as well as the right to a process with all the guarantees.
The report was produced as a result of the presence of 62 observers in the trial from 17 different countries.
According to the conclusions of the document, the Supreme Court trial was a "violation of human rights" collected by treaties and conventions ratified by the Spanish State, that are part of its internal legal system. "It is a clearly ideological resolution aimed at replacing the political solution that is needed in the conflict in Catalonia," reads the document.
Anaïs Franquesa, a representative of the Irídia Center for the Defense of Human Rights, part of the International Trial Watch, affirmed that the sentence "clearly breaks the principle of criminal legality" that implies that the law "is not foreseeable for the condemned."
"Criminalization" of the "right of protest"
According to Franquesa, "the foundation of the sentence" is that a crime of disobedience "becomes sedition to deter citizens from participating in mobilizations." The reality, she recalled, was that it was a "peaceful mobilization" enshrined in the "right of expression and protest" that does not justify imprisonment.
"It is criminalizing the right to protest and violent right of assembly," she said, and therefore "the fundamental right violent judgment affecting all citizens."
"Doubts about the impartiality" of the judges
The president of European Democratic Lawyers (AED), Robert Sabata, denounced that "there have been very clear violations" about the right to "a fair trial," beginning with the fact that the trial "should have taken place in Catalonia "because the facts had no effect on the rest of Spain.
The court, he said, made "an expansive interpretation" of its jurisdiction and also violated the right to "second instance." "Basically the judges were not a third party, but an interested party" and there are serious doubts about their impartiality," he said, before reminding of the media pressure and the fact that the president of the courtroom, Manuel Marchena, prevented videos that denied the testimonies of the accusations be seen in the court, which caused "material defenselessness."
In addition, according to Sabata, not only was there a "fascist party" acting as a private prosecutor, but there was a discriminatory treatment of the testimonies of the defenses and those of the accusations.
"The witnesses of the defenses were cut across by the courts and asked for their political ideologies," while when the defenses asked the same, the court didn't allow their questions.