Covid-19 measures now in force ahead of Christmas holidays
Capacity limits in restaurants, curfew, and 10-person gatherings among new measures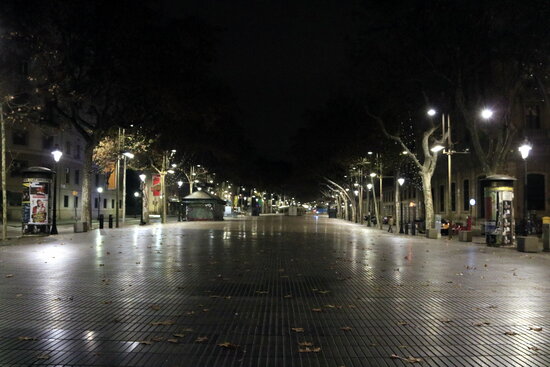 For the second year in a row, residents in Catalonia will have to celebrate Christmas with restrictions in place to stop the spread of Covid-19.
On Thursday, Catalonia's High Court greenlighted a 1 am to 6 am curfew in municipalities with over 10,000 inhabitants and an incidence rate of over 250 as well as a 10-person limit on gatherings as cases continue to rise.
The measures will remain in place throughout the festive season until at least January 7..
Covid-19 health passes are still required for entry into restaurants and gyms. There is also a 50% capacity limit in the indoor seating areas of restaurants, as well as a 70% capacity limit in gyms, stores, and cultural venues.
As of Friday, face masks are, once again, mandatory outdoors, even when distances can be kept. Spanish president Pedro Sánchez's announced the measure Wednesday evening during his meeting with regional leaders, including Catalonia's. Catalan president Pere Aragonès called Spain's measures "clearly insufficient."
Catalan public health secretary Carmen Cabezas, meanwhile, said in an interview with RAC1 radio on Thursday morning that she found the use of face masks to be of "little use" outdoors, and explained that the Omicron variant already accounted for over 50% of new cases in Barcelona.
Municipalities with a curfew
The curfew will apply to 117 municipalities that have an incidence rate of over 250 cases and 10,000 inhabitants. Another 9 municipalities will have to follow the same measures, as they are surrounded by high incidence towns.
Covid-19 indicators
Catalonia reported its highest ever number of new daily Covid-19 cases since the beginning of the pandemic on December 23, 14,929. This is the fourth day in a row with over 10,000 new PCR and antigen test diagnosed positives, a surge that is largely attributed to the highly transmissible Omicron variant of the virus.
Official figures, released daily on this website, state that on December 23, there have been 1,174,484 confirmed Covid-19 cases since February 25, 2020, and a total of 24,434 people with or suspected to have had the virus have died.