High Court approves curfew and 10-person gatherings over Christmas
Curfew to be imposed from 1 to 6 am despite opposition from public prosecutor's office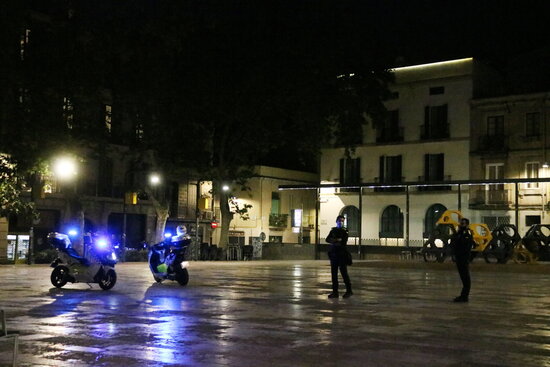 Catalonia's High Court greenlighted a 1 am to 6 am curfew in municipalities with over 10,000 inhabitants and an incidence rate of over 250 as well as a 10-person limit on gatherings to stop the spread of Covid-19.
The court will also allow a 70% capacity limit for religious and non-religious ceremonies, such as weddings or funerals, and for Covid-19 health passes to still be required for entry into restaurants and gyms.
These measures will come into effect at midnight on Thursday and be in place for at least 15 days alongside other restrictions: the closure of nightclubs, a 50% capacity limit in the indoor seating areas of restaurants, as well as a 70% capacity limit in stores, gyms, and cultural venues.
The government announced the new restrictions on Monday and had been awaiting the court's approval for the curfew and cap on gatherings as they limit Constitutional rights.
Early on Thursday morning, the public prosecutor's office opposed the measures as, according to them, there were insufficient reasons to justify these "severe, extensive, very restrictive, intense and widespread" restrictions.
From Friday, face masks will once again be mandatory outdoors after Spanish president Pedro Sánchez's announcement on Wednesday evening. Catalan public health secretary Carmen Cabezas said in an interview with RAC1 radio on Thursday morning that she found this measure to be of "little use" outdoors, and explained that the Omicron variant already accounted for over 50% of new cases in Barcelona.
Covid-19 indicators
Catalonia reported its highest ever number of new daily Covid-19 cases since the beginning of the pandemic on Thursday: 13,308. This is the third day in a row with over 10,000 new PCR and antigen test diagnosed positives, a surge that is largely attributed to the highly transmissible Omicron variant of the virus.
As of December 22, there are 1,344 hospitalized Covid-19 patients across Catalonia, of which 356 require ICU care — 48.5% and 79.8% increases, respectively, on figures seen exactly two weeks prior.
Official figures, released daily on this website, state there have been 1,159,454 confirmed Covid-19 cases since February 25, 2020, and a total of 24,413 people with or suspected to have had the virus have died.
6,233,212 residents have been given the first dose of the vaccine, 78.7% of the total population. Out of those, 5,412,503 have also been administered a second dose (68.4% of the total population). 6,044,544 residents are considered to be fully immunized (76%), while 1,621,905 have had third doses (20.6%).
Under 65s who have already had the virus are only required to have the first dose, and others have received a single-dose jab. Therefore, the % of two doses administered and % fully immunized do not match.
Public healthcare in Catalonia
Anyone who is registered in a municipal 'padró'census in Catalonia is entitled to at least basic CatSalut public health coverage, which includes Covid care and vaccinations.
You can apply for a health card here. Once you have received a CIP number, you can request access to La Meva Salut, the website and app from which medical records – including vaccination certificates – can be downloaded and health queries can be made. You will also be able to book vaccination appointments online.
Covid-19 vaccinations are only administered through the public health system.