Court rejects suspending some jailed independence leaders' low prison category, but accepts others
Judge revokes privileges of Turull and Rull, while Bassa and Forcadell keep their partial freedom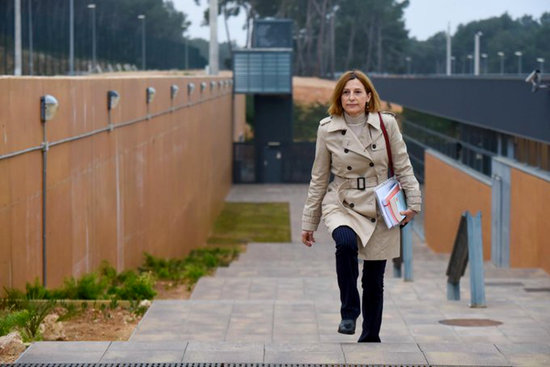 A court has rejected suspending jailed independence leaders Carme Forcadell and Dolors Bassa's low prison category privileges as had been requested by the public prosecutor
A judge accepted the request from prosecutors to revoke the privileges of Jordi Turull and Josep Rull later on Thursday afternoon, meaning they will return to the Lledoners penitentiary center.
This comes only days after Oriol Junqueras, Raül Romeva, Quim Forn, Jordi Cuixart, and Jordi Sànchez returned to Lledoners prison after a judge suspended their categorization.
According to the courts overlooking the cases of Bassa and Forcadell who keep their partial freedom, these privileges cannot be suspended as a precautionary measure until they are appealed in Spain's Supreme Court, where the nine imprisoned independence politicians and activists were tried and sentenced last October.
The affected parties will have 10 days to present any relevant allegations on the matter.
The low category status was granted to and came into effect for all of the jailed independence leaders around two weeks ago, and permits them to leave their cells on the weekends and during weekdays, returning to sleep there Monday-Friday.
According to the prosecutor, giving them this category creates "a sense of impunity."
From now on, prison authorities will have to study each of their situations on a case by case basis before conceding privileges such as outings.
Catalan government responds to suspension
Responding on Tuesday night to the court's decision to revoke the privileges of the first five independence leaders, Catalan president Quim Torra called it an act of "vengeance" and warned the Spanish government, which he views as being behind the move, that it must "demonstrate a desire to end hostilities against the independence movement" for dialogue to be able to take place.
According to the president, the suspension of the low category statuses will not be taken as a "defeat" but rather inspire the independence movement to "prepare itself better to stop being held captive by an authoritarian state" following what he described as the encroachment of Spain on what is the authority of Catalan prison administrations.
Torra's vice president, Pere Aragonès, was also highly critical of the move and accused the public prosecutor of "rupturing" talks between the Spanish and Catalan governments on the Catalan independence issue that have been put on hold due to the pandemic.
"Amnesty is essential in order to negotiate," said Aragonès.