Catalonia will continue giving AstraZeneca vaccine despite latest fears in Germany
All over 80s to have received first Covid-19 dose by next week, authorities pledge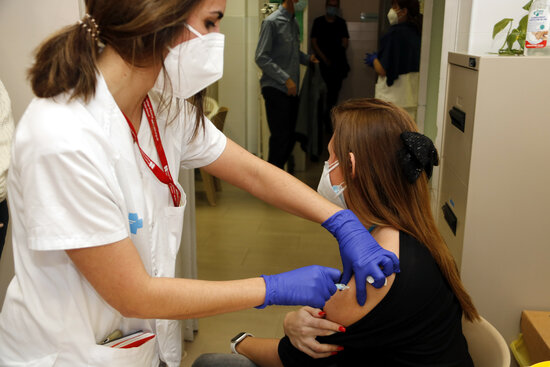 The Catalan government has decided to continue giving AstraZeneca doses despite the latest fears that led the German federal government and its 16 federal states to restrict its use to over 60s in most cases.
The cities of Berlin and Munich were the first ones to limit the use of the vaccine after having spotted an unusual rate of blood clots especially in women between the ages of 20 and 63 who had received a dose.
Yet, senior Catalan health official Carmen Cabezas said in a press conference on Tuesday evening that they will continue with the rollout because, at the moment, the AstraZeneca jab is only being administered to people between the ages of 60 and 65.
She also reminded that the European Medicines Agency (EMA) had established earlier in March that the "benefits still outweigh the risks despite a possible link to rare blood clots with low blood platelets."
Spain's public health authorities also decided on Tuesday to continue administering AstraZeneca doses for people up to 65, and also to give the Janssen jab when it is delivered for the eldest ones.
After sitting on around 127,000 doses for some days pending a decision of the EMA, Catalonia is now vaccinating 60 to 65-year-olds with the AstraZeneca inoculation – thousands of younger people working in essential jobs had received the first dose before the first fears related to blood clots.
Catalan health authorities also pledged that "by the end of next week" all people over 80 who accept getting vaccinated will have received at least the first dose – as of March 31, 44.7% of the people falling into this category had already been vaccinated with one dose, and 23.9% have received both.
This week 120,000 jabs will be administered to this group through Thursday, with 190,000 more to be given next week.
The next group in the pipeline for Catalan authorities will be those over the age of 70. Spain decided to begin inoculating those with a very high risk of developing serious symptoms in parallel to those between 70 and 79.