Catalonia surpasses 70% of population fully vaccinated
5.5 million out of 7.7 million inhabitants are now completely inoculated against Covid-19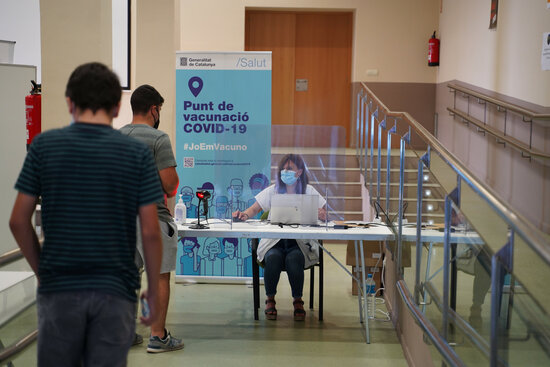 Catalonia has surpassed the 70% milestone for full vaccination of the population on its National Day, September 11.
This goal was originally set for end of August, but it took some extra days to be reached – yet, authorities and experts have repeatedly said that due to the Delta variant, this milestone is no longer as relevant as initially believed as it will not bring the much-awaited herd immunity.
As of September 10, 2021, 5,792,221 residents have been given the first dose of the vaccine, 73.2% of the total population. Out of those, 4,896,874 have also been administered a second dose (62% of the total population). 5,542,426 residents are considered to be fully immunized (70.1%). Under 65s who have already had the virus are only required to have the first dose, and others have received a single-dose jab. Therefore, the % of two doses administered and % fully immunized do not match.
Yet, the pace of the rollout slowed down in August coinciding with the summer holidays, and it has not since picked up the same pace. The roughly 100,000 vaccinations per day seen in the first fortnight of July is now a memory, with around 30,000 jabs given every day this week.
This concerns authorities, since 20% of those aged 12 or more, that is, the age groups eligible to be inoculated, have not received any dose yet.
The health department is now focusing its efforts on vaccinating the 12 to 39 age group, with inoculation rates significantly lower than amongst older segments of the population.
Measures to encourage vaccinations
Calling one million residents is one of the measures Catalan authorities is taking, as well as sending texts, setting up vaccination sites where appointments are not needed – such as on the Autonomous University of Barcelona (UAB) campus – and offering the jab when patients go to hospitals for other reasons.
The public health secretary, Carmen Cabezas, said this week that ways to point out the value in getting protected against Covid-19 are being considered, but said "discounts" on cultural activities are not on the cards, despite having suggested it in a recent interview.
According to her, other ways of promoting the vaccine, including requiring the EU Covid Certificate to participate in certain activities or events, are being discussed in Spain-wide committees.
Despite this latest call to encourage vaccination, public health secretary Carmen Cabezas said that Catalonia "is among the countries with the best vaccination rates worldwide."