Catalan residents aged 60-65 now eligible for Covid vaccine
How to make an appointment online and what are the conditions to get the jab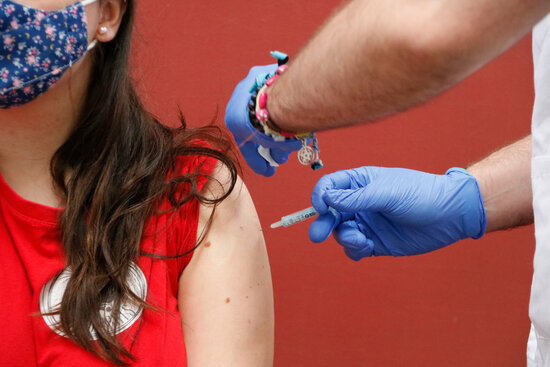 Catalan residents aged between 60 and 65 years old can already make an appointment online to get the Covid-19 vaccine.
Appointments were made available just days ago, but some 100,000 people have already scheduled their vaccination with the AstraZeneca jab.
You can't get the vaccine if you've been diagnosed with Covid-19 over the last six months or if you're currently in isolation following close contact with a Covid case.
You must contact your doctor before making an appointment if you're a cancer patient, if you've undergone an organ transplant, if you are on dialysis, or if you're receiving an immunosuppressor treatment.
The website is only available in Catalan and Spanish, so here's a quick step-by-step guide to learn what you need to know and make an appointment.
The health department are asking residents to wait until they receive an SMS inviting them to book their appointment, as health authorities are prioritizing those at-risk for the jab.
Here's another guide to how you can ensure you'll be included in the public health system's vaccine rollout plan.
To find full details about how the Catalan healthcare system works and how to get a CatSalut card, click here. It is entirely free and is a simple and speedy process.
Step-by-step instructions
Go to vacunacovid.catsalut.gencat.cat and click on the 'Accedir-hi' button at the bottom of the page.
The default option asks you to provide your CIP code. The CIP is a 14-digit code you'll find written on the front of your CatSalut public healthcare card. It contains four letters (normally, the two first letters of your first and second surname), followed by 10 numbers, which should include your birthday in the format YY/MM/DD.
You can also click on the 'DNI/NIE/PASSAPORT' button on the top of the page and instead provide an alternative ID code.
The other boxes request your phone number, name, first surname, second surname (not compulsory), and email address. Fill them and click on the 'Acceptar' button.
You'll receive an SMS code consisting of four numbers. Enter the code in the box and click 'Acceptar'.
There's a list with 20 different vaccination points spread across Catalonia, including public clinics, cultural centers, and other buildings.
Choose a day (the ones in grey are not available) and a time to get the vaccine. Click on 'Confirmar Cita'.
You'll receive an SMS and an email confirming your appointment.