Bars to open until midnight and social gatherings extended to 10 people
Easing of Covid-19 restrictions affecting restaurants will apply from Thursday following High Court ruling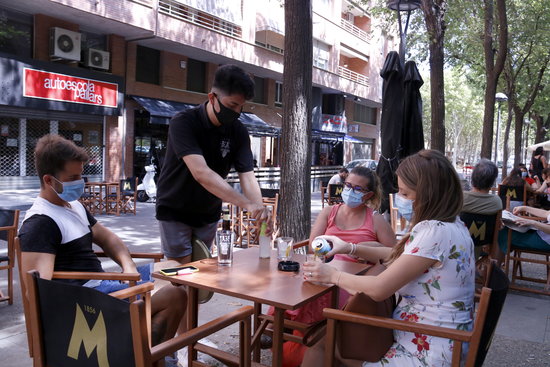 Catalan authorities will continue to loosen Covid-19 restrictions weeks after Spain's 6-month state of alarm came to an end, suspending the night curfew.
Bars and restaurants in Catalonia will be allowed to open until midnight. Indoor capacity limits will be raised to 50% and 6 people will be allowed to sit at the same table rather than 4, as has been the case up until now.
While the government wanted all new restrictions to apply from Monday, the Catalan High Court ruled that those regarding restaurants should come into effect this Thursday.
The limit on social gatherings will be extended from 6 to 10 people from next Monday.
Capacity limits will be increased for cultural events (70%), stores (50%), and universities (50%). Up to 1,000 people indoors and 3,000 outdoors or inside adequately ventilated venues will be allowed to attend cultural events.
These changes were announced by health minister Alba Vergés, health secretary-general Marc Ramentol, and interior minister Miquel Sàmper in a midday press conference on Thursday.
Until now, bars and restaurants have only been able to open until 11 pm, with large crowds seen over the past couple of weekends on the beach and in public squares after this closing time.
Last weekend, the first full weekend without the curfew in place, police had to vacate 16,000 people from streets, squares, and beaches in Barcelona.
The loosening of measures comes as Catalonia continues to see improving Covid-19 figures and indicators. This week, the transmission rate fell to its lowest value since last June.