Covid transmission rate drops to lowest level since June
R number in Catalonia now stands at 0.75, meaning on average 1 in 4 don't pass the virus on to another person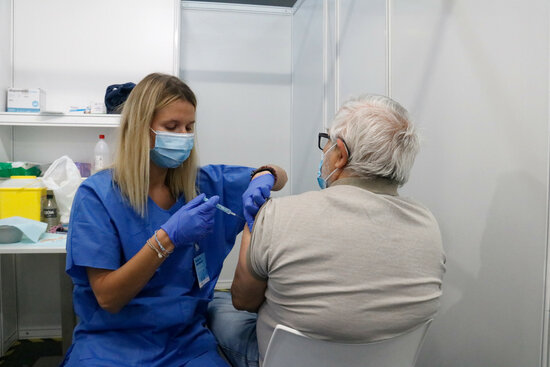 The Covid-19 transmission rate in Catalonia stands at 0.75 according to the latest data released by health authorities on May 18, 2021.
This means that, on average, 1 in 4 coronavirus positive patients no longer pass the virus on to another person.
Such pandemic figures have not been seen since June 7, 2020, the last time the pandemic indicator was as low.
Any R number value at 1 or above would mean the virus would continue to spread through the population, but remaining below 1 would see the pandemic come under control.
The improving metrics is largely down to the steady progress of the vaccine rollout programme.
According to the latest data, 2,484,587 Catalan residents have been given at least one dose of a coronavirus vaccine, 31.7% of the total population.
Additionally, 1,147,561 people - 14.7% of the population - are considered fully immunized, that is, either with two doses administered, one shot of the Janssen jab, or one shot of another inoculation for people who have previously had Covid-19.
There are currently 390 patients in intensive care due to Covid-19, which is the lowest number seen since January 2. In total, there are 1,068 patients hospitalised, which is also the lowest tally since October 14.
The outbreak risk indicator also supports the idea that the pandemic is coming under control too, as last week it already moved from the threshold of 'very high' to 'high' for the first time in two months.
Using the iEPG index, the outbreak risk is calculated by multiplying the average spread of the virus over the past seven days by the cumulative incidence over the past two weeks.
The limit for 'high' risk is above 100, and 'very high' from 200. On May 17, the outbreak risk was 128.