Almost half of all Covid-19 cases in Catalonia recorded in just three months
726,232 new cases reported since October 22, 2021 accelerated by Omicron variant and holiday gatherings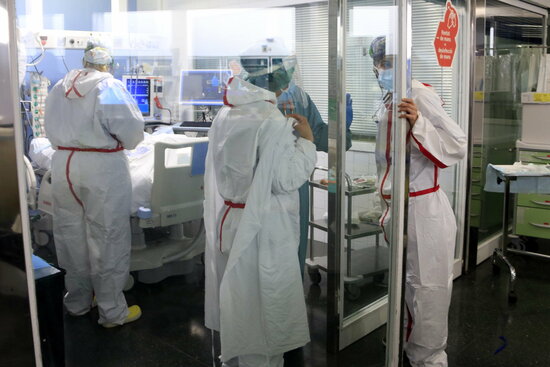 The number of new daily Covid-19 cases in Catalonia is still reaching all-time highs, with authorities recording over 20,000 new cases per day for six days in a row from January 10 to January 15, 2022 and 14,810 registered on Sunday 16. The recent Christmas holidays and the spread of the Omicron variant have led to a surge in positive results—a staggering 726,232 cases between October 22, 2021 and January 16, 2022.
On that day, Catalonia surpassed a million cases reported since the start of the pandemic with 1,000,468 positives.
Since then, almost three months ago, Catalan health authorities registered the same number of cases compared to the previous 11 months, when there were 290,244 cases overall. 14 months later, however, the official tally stands at 1,726,586 people in Catalonia who have had the virus.
Despite these soaring numbers, the vaccination campaign started on December 27, 2020. As of January 16, 2022, 6,416,075 residents have been given the first dose of the vaccine, 81.1% of the total population. Out of those, 5,574,467 have also been administered a second dose (70.5% of the total population). 6,142,056 residents are considered to be fully immunized (77.3%), as data published by Catalan News shows.
The vaccine has helped to decrease the mortality rate compared to one year ago when shots were only being administered to older residents and essential workers. From January 10 to 16, 2022, 166 people with or suspected to have had the virus have died, while over the same period last year, 384 did according to data shared by Catalan health authorities.
With 77.3% of the population fully immunized, this difference may not seem as big as one would think it should be. But at the beginning of 2021, authorities reported around 3,962.42 cases per day. In 2022, the average number of cases per day is already 25,185.14— official figures show 176,296 new cases from January 10 to 16, 2022—.
In order to avoid the collapse of the health system, the Catalan government announced a new curfew as well as some other measures such as a 10-person limit on gatherings on December 20, 2021.
The restrictions, which were in place during the whole festive season, could be lifted on January 20, as the executive said earlier this month. However, these restrictions will only come to an end if the health situation improves.