20% already vaccinated as Catalonia surpasses 2 million administered doses
500,000 out of 7.7 million residents fully inoculated as a quarter of a million jabs given in past three days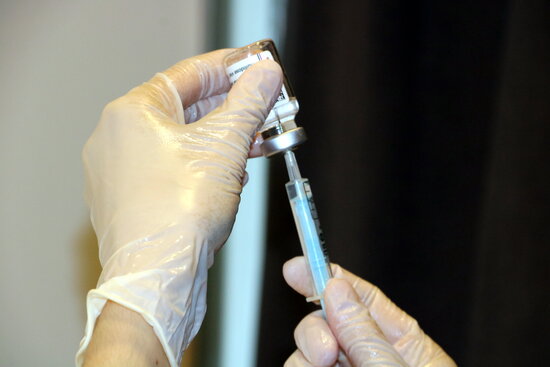 Catalonia passed several landmarks in its vaccination rollout on Saturday after the latest daily update referring to the day before.
As of April 16, 2021, 1,565,695 residents had been given the first dose of the vaccine, 20.27% of the total population. Out of those, 500,089 had also been administered the second dose (6.47% of the total population).
This means that over 20% out of the 7,722,203 residents in the country have already received the first Covid-19 jab.
Yet, those who have been given both doses are much fewer, but in the latest update the figure of residents in Catalonia fully inoculated passed half a million.
The two figures together mean that over 2 million doses have now been administered, exactly 2,065,784.
The rollout has picked up recently, with over a quarter of a million doses given in the past three days – the highest figure so far.
Rollout progresses in several priority groups
Looking into priority groups, an overwhelming majority of healthcare residents (92.5%) have already received both jabs, as over 70% primary care and hospital workers and very dependent people are now also fully protected against the pandemic.
The rollout on those over 80 is also progressing, with 88.9% of people falling into this age range with a dose, and a third (34.2%) with both.
As for those between 70 and 79, 37.9% of them have received the first jab, but only 2.1% got both – the figures are slightly better than those between 66 and 69 – who are getting the AstraZeneca jab –, at 24.8% and 0.5% respectively.
Yet, a greater amount of essential workers (66.3%) and people between 60 and 65 (50.4%) have been administered the first dose, because the rollout of these groups began weeks before with the AstraZeneca vaccine.
This comes as it was learned that recently, around 10% of people in Catalonia who have been called to receive the AstraZeneca Covid-19 vaccine are not attending their vaccination appointments.