1 in 10 fail to attend AstraZeneca vaccination appointments
Decision on second dose for essential workers under 60 yet to be made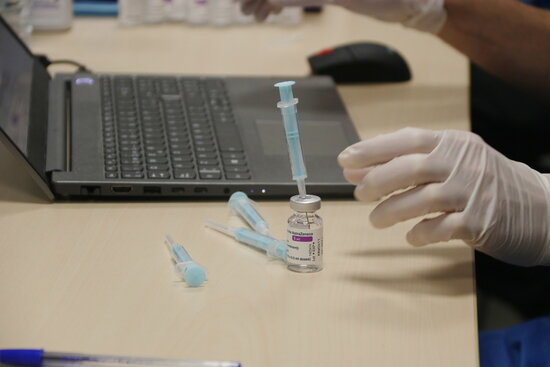 Around 10% of people in Catalonia who have been called to receive the AstraZeneca Covid-19 vaccine do not attend their vaccination appointments.
Yet, as public health secretary Josep Maria Argimon explained on Tuesday evening, it would be incorrect to say that these people have "rejected" the vaccine as there could be multiple reasons for their no-shows, which they are not required to give authorities.
As for whether essential workers under 60 who received a first dose of the AstraZeneca vaccine prior to the decision to suspend them for that age group will receive a second one, Argimon's colleague Dr. Carmen Cabezas, the deputy director general of health promotion, stated that the matter would be debated during Spain's Interterritorial Health Council meeting on Wednesday.
Catalan health minister Alba Vergés, meanwhile, has urged the Spanish government to decide how to proceed sooner rather than later as second AstraZeneca doses for this group will be due starting April 26. "Covid-19 does not let up—we should not drag this out any longer," she said on Tuesday.
Some media outlets state, however, that Spain could take weeks to decide on the matter. Other countries, such as France and Germany, will be providing essential workers under 60 with an alternative second vaccine dose.
Vaccine rollout and latest Covid figures
As of April 13, 2021, 1,345,962 residents have been given the first dose of the vaccine, 17.43% of the total population. Out of those, 464,320 have also been administered the second dose (6.01% of the total population).
Official figures state there have been 620,836 confirmed Covid-19 cases (PCR tests and others including antibody tests) and a total of 21,594 people with or suspected to have had the virus have died since the beginning of the outbreak according to funeral homes.