Health department invites 40,000 people aged 69 to receive AstraZeneca jab
From Tuesday, people born in 1952 can make their appointment to get the Covid-19 vaccine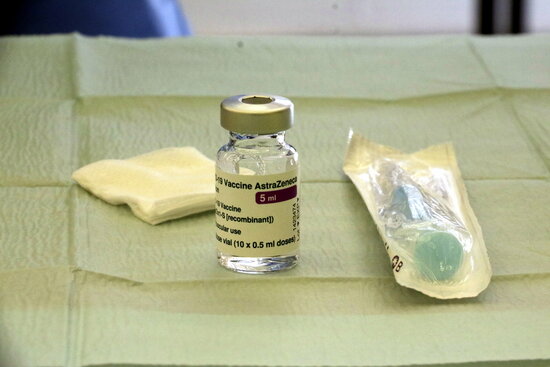 Catalonia's department of health sent 40,000 messages to people aged 69, inviting them to be vaccinated with an AstraZeneca jab.
People who have been sent the communication will be able to start making an appointment from Tuesday, April 13. They can do so from this website: vacunacovid.catsalut.gencat.cat
📢 Si has nascut al 1952, ja pots vacunar-te.

Demana la teva cita a:
🖇 https://t.co/9PmJTuHkMa pic.twitter.com/8CYMPciKEw

— Salut (@salutcat) April 12, 2021
The 40,000 people called upon to book their vaccination were born in 1952 and will receive one of the jabs that, until now, were intended for the age group of between 60-65 years.
They are the first people in this age group to be invited to receive the AstraZeneca vaccine after the public health committee last week agreed to extend the age range for the Oxford inoculation to 60-69 years.
According to the latest data from the department of health, 49% of citizens between the ages of 60 and 65 have received the first dose of the Covid-19 vaccine. In addition, 0.4% have received a second dose.
Rollout to those between 70 and 79 begins
The first doses of the Janssen vaccine, the latest one approved by the European Medicines Agency, will arrive in Spain on Wednesday morning. They require just one single dose for inoculation and, according to the Spanish health minister, Carolina Darias, they will be used for those aged between 70 and 79.
The Catalan government, in charge of the rollout in Catalonia, has not made a general call for all those between 70 and 79 to book an appointment but may do so in the coming days. The health authorities have already been administering a jab to some residents aged 78 and 79. The official data as of April 12 states that 15.5% of people in the 70-79 age range have already received the first dose.
Pfizer jab reduces risk of Covid death by 98%
The risk of dying from Covid-19 falls by 98% in care homes after two doses of Pfizer, according to a study carried out in care homes and on health workers across Catalonia.
The results show how two-dose vaccination reduces the risk of infection by between 88 and 95%. This protection is 95% among health workers, 92% among care home staff and 88% among residents.
With just one dose, the reduction in infections is between 40 and 50%. The study was conducted on about 117,000 people, half health workers and the other half care home staff and residents.
Vaccination rollout 'accelerating'
Meanwhile, after several delays in the vaccination rollout, which were compounded by weeks of uncertainty over the links between the AstraZeneca jab and very rare cases of blood clots, Spanish authorities are hopeful that inoculations against Covid-19 will advance at a good pace.
Spain's president Pedro Sánchez said the vaccination rollout is "accelerating," setting "new record after new record" in April, and says that "each new month will improve on the previous one."
By May 3, Sánchez says 5 million people will have received coronavirus vaccines, which will rise to 15 million by June 14, 25 million by July 19, and 33 million (70% of the Spanish population) by the end of August.