,
Christmas lights, free ceramics workshops, performing arts: what's on this weekend
From concerts, exhibitions, festivals and other events, there's always plenty of things to do in Barcelona and its surroundings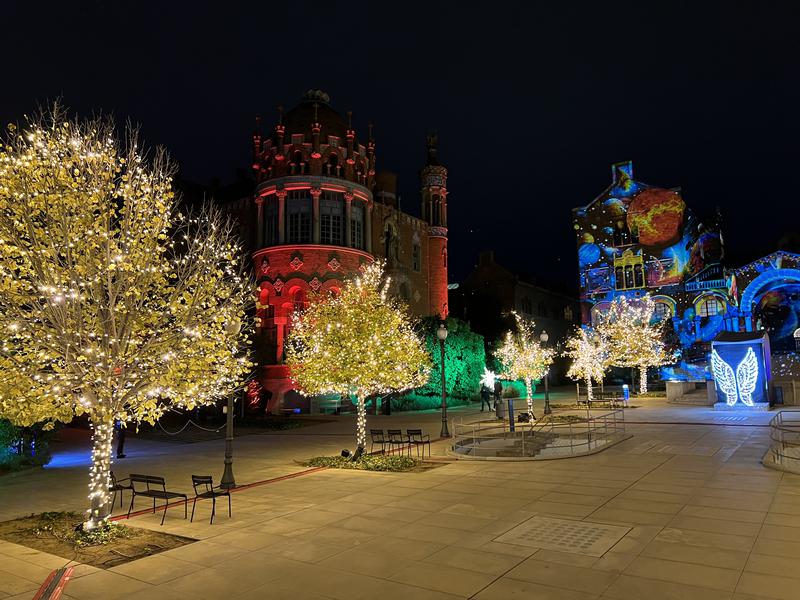 From concerts to cultural festivals, events and nightlife, there are countless things to do in Barcelona and around Catalonia this weekend.
Here's a selection of some of the best plans and what's on in Barcelona this weekend.
Christmas lights switched on | Various days all week | Ceremony
The Christmas lights are being switched on in towns and cities across Catalonia this week. Each council will make its own decision on when, where, and how to switch on their lights, meaning the week will be filled with festive vibes all week. Barcelona's lights are switched on November 24, but take a look at your local council's website to find out what date your local lights will be switched on.
Christmas markets | Nov 25-Dec 23 | Market
Barcelona's main Christmas market has been held at the feet of Barcelona's Cathedral since 1786. At the Fira de Santa Llúcia, visitors will find decorations for the home as well as nativity scene figures. Open from November 25 until December 23, the festive fair has dozens of small shops dedicated to Christmas decorations, ornaments, and trees. Other Barcelona markets include the Sagrada Família market, opening November 26, while the Fira de Reis on Gran Vía, focussing on children's toyr, commences on December 17. There's also a solidarity Christmas market taking place November 24-26, raising money for childhood cancer charities, taking place in Casa Capell on Rambla de Prat in Barcelona.
Sant Pau Hospital light display | Nov 22-Jan 15 | Light show
A special lights display at the UNESCO-recognised modernist enclosure of the Sant Pau Hospital will get even the grumpiest of grinches into the holiday spirit. Enjoy the opportunity to take wonderful photographs in one of the most scenic places in Barcelona, specially designed for the holiday season.
Free ceramic masterclasses | Nov 26-27 | Workshop
Ceramics workshop Born to Clay, located in the Barcelona neighborhood of Born, are offering free ceramics classes to the public this weekend. On Saturday and Sunday from 11 am to 8 pm, no prior booking is necessary, people can arrive and unleash their creativity.
Poblenou Open Night | November 26 | Open Doors, Festival
Poblenou Urban District is putting on a very special evening to enjoy one of the coolest neighborhoods of Barcelona this Saturday. Dozens of museums, workshops, studios, galleries, and much more will be opening their doors for visits and events. Bars and restaurants will be putting on special offers, while other places will be throwing big parties, with plenty of DJs and musicians performing around the whole area.
Rethink Vintage Market | November 25-27 | Market
A kilo of vintage clothes for just €35. Tickets have to be reserved online here, but they are free.
L'Alternativa Film Festival | Nov 18-Dec 4 | Film Festival
Hosted by the CCCB in the heart of Barcelona's old town, L'Alternativa offers filmgoers and professionals a unique opportunity to discover and enjoy screenings and activities that value creative freedom, diversity, innovation, commitment, and thought-provoking reflection. Along with screenings of some of the best in independent cinema, the festival also organizes debates, workshops, and masterclasses for those interested in filmmaking.
Zoom | November 22-27 | Film Festival
The Zoom film festival, held in Igualada in central Catalonia, returns for its 20th edition this year, with some events also held in Barcelona and online.
Ombra festival | November 24-27 | Music
Ombra Festival was started in 2018 by the Catalan record label Oracle Records with the aim of creating a meeting place for lovers of analog and avant-garde sounds.
Gods, Wizards, and Sages | Nov 24-Apr 2 | Exhibition
Throughout the 20th century, looking at the "other" has been changing in its perspective and approach. An artist's gaze enriches the understanding of the objects, which, in turn, reveals aspects related to their interests and creative process. This exhibition at Barcelona's CaixaForum shows the work of ten artists from the La Caixa Foundation, including Joan Miró and Antoni Tàpies, together with objects from their personal collections.
Mey Rahola (1897-1959). The new photographer at MNAC | Nov 24-May 29 | Exhibition
Mey Rahola was one of the first women to make a name for herself in the world of photography in Spain and was involved in the construction of the new role of women in the public sphere during the Second Republic. Now, Catalonia's National Art Museum highlights the life and career of this pioneering photographer.
Josep Grau-Garriga: Dialogue with Light | Nov 28-Sep 24 | Exhibition
In the late 1970s, Josep Grau-Garriga, one of the key exponents of the Catalan School of Tapestry, began to experiment with transdisciplinary techniques and with works in large formats. This new exhibition in MACBA includes a series of photographs, documents, and drawings that never came to fruition during the artist's life.
World Press Photo at CCCB | November 4-December 11 | Exhibition
The best works in photojournalism from the past year are back in display in Barcelona. Highlighting human stories from all corners of the globe, this year's World Press Photo exhibit touches on themes of cultural identity, international conflict, and the climate crisis.
Brain(s) at CCCB | Until December 11 | Exhibition
The human brain is the most complex object we know of and the one that raises most questions in the fields of both science and philosophy. CCCB's exhibition 'Brain(s)' looks at how, throughout history, art, science, and philosophy have studied and represented this fascinating organ.
Ayuujkjä'äy ëy Konk. A fable based on a Mixe myth | Nov 10-Feb 26 | Exhibition
Never conquered, the Mixe people speak one of the last living languages of the Mixe-Zoquean family. The project in Barcelona's MACBA museum seeks to address a new perspective on the history and current status of global art from a critical review of one of the richest, most problematic, recurrent and unique manifestations.
'Comic. Dreams and History' at CaixaForum | Until January 15 | Exhibition
The comic sector is considered the ninth category of art and has a long and proud tradition. This exhibition brings visitors on a journey through some of history's best comics and delves into the production process, from conceptualization and drawing to the final printing of the work.