Train journeys across Catalonia you can enjoy with free tickets
Beaches, mountains, cities, and the airport can all be reached by rail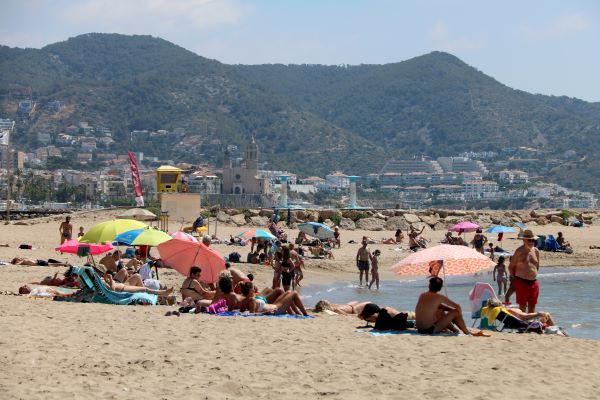 Connecting north to south and east to west, Catalonia's Rodalies train lines move millions of passengers every month. From September 1 to December 31 this year, travelers will enjoy free trips as the tickets will be fully subsidized by the Spanish government.
Initially, it was expected to be 50% cheaper, however, Spanish PM Pedro Sánchez made tickets for short and medium-distance trains run by state-owned operator Renfe free for four months.
This is part of the Spanish government's package of measures to counter the cost-of-living crisis and, more specifically, encourage the use of public transport in the face of high fuel prices. Tickets can be obtained on the Renfe app and website as well as at ticket counters and machines in stations.
Passengers will have to pay a €10 deposit for short-distance tickets and €20 for medium-distance ones. These fees will be returned automatically four months later if tickets are used at least 16 times.
9 Rodalies train lines across Catalonia to enjoy
Catalans can travel across the territory using up to 15 different routes operated by Renfe. All of them will be free allowing people to visit Barcelona, several beaches, mountainous areas, go to the airport, or even travel to some of the other cities in Catalonia or in the neighboring regions of Aragon and Valencia, or even in France.
Rodalies has nine different train lines that can bring users to places such as the southern beaches of Castelldefels, Garraf, Sitges, Vilanova i la Geltrú, and even Calafell, all of them via the R2S line. It does not matter how long the journey takes, as all trips will be free of charge.
To the north, beaches accessible by train include but are not limited to Sant Adrià de Besos, Badalona, Masnou, Premià de Mar, Arenys de Mar, Canet de Mar, and Blanes. Travelers will have to take the R1 train line in this case, the oldest one built in Catalonia that is currently in danger due to climate change.
But trains were not only built to go to the beach, but also to stop in some of the biggest cities around the territory. Aside from the Barcelona El Prat Airport, the R2N line also stops in El Prat de Llobregat, another city south of the Catalan capital.
While the R2S has stations in Castelldefels, Gavà, and Sant Vicenç de Calders, among other sites.
Other big cities reachable by train include Ripoll and Puigcerdà (R3) in the northern mountains; as well as Vic (R3), Granollers (R2, R2S, and R8), and Terrassa and Manresa (R4), in inland Catalonia.
Students going to the Autonomous University of Barcelona (UAB) by Rodalies R7 will also benefit from the free ride.
Regional train lines
The other six Renfe-operated train lines in Catalonia are named 'Regionals' and are medium-distance covering several important destinations in the territory, from the northern town of Portbou on the coast right before the French border, to the southern tip of the territory, Ulldecona-Alcanar-La Sénia.
These lines are all those named 'R' and followed by a double-digit, as opposed to the Rodalies ones that only have one number.
With these train lines, travelers will even be able to cross the French border and visit Cerbère for free with the R11 line.
Before reaching the border, however, those going by train can stop in some Costa Brava areas such as Figueres, Llançà, or Colera.
Other interesting spots include the largest amusement park in Catalonia, Port Aventura (R17), and other major cities such as Tarragona (R14, R15, R16, and R17), Reus (R14 and R15), Girona (R11), and Lleida (R12, R13, and R14).
Regional lines also have a Regional Express option, reducing the number of stations the train stops at, therefore offering shorter journeys.
High-speed trains not included
Renfe's high-speed trains are not included in the subsidized tickets, at least in Catalonia, as some areas in Spain do have a price reduction in these services.
AVEs in Catalonia go from Figueres-Vilafant, next to the French border, to Lleida, before crossing to the neighboring region of Aragon.
Despite the speed and making it possible to travel around the territory easily, there are only five stations across Catalonia: aside from the northern one and the one in Lleida, the AVE also stops in Girona, Barcelona, and Camp de Tarragona.
Can Barcelona daily commuters get free rides?
All public transport in Barcelona's metropolitan area is combined, meaning one traveler can use the same ticket for bus, metro, Rodalies, and tramway. This will complicate things for those who desire to travel for free during the last months of 2022 and live in Barcelona.
Rodalies will be the only transport service free of charge, therefore, users taking the metro or the bus will still have to pay, half of the current cost, depending on the ticket they acquire.
It will only be possible to travel for free if you only ride Rodalies and then finish your commute by walking.
But if you need to take the metro or the bus, you will still end up having to use a ticket, therefore, not necessary to get a free ticket for half of your journey, as the already reduced one will also be usable in Rodalies.
However, non-Barcelona residents will see a huge change in their travel expenses from September to December.
Rodalies will be free whether you use them for five minutes or for over two hours. So, people living outside the first zone of the metropolitan area ticket fares will have cheaper journeys.