Three Catalan restaurants maintain their three Michelin stars
ABaC, Lasarte and Celler de Can Roca continue in gastronomy elite, as Catalonia has 64 stars overall in 2022 guide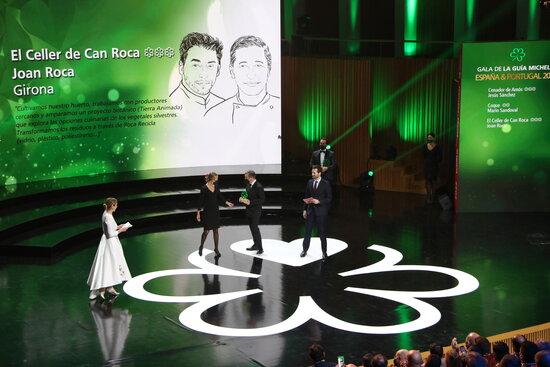 The three Catalan restaurants with three Michelin stars – the highest category of the guide – are keeping their status one more year.
ABac, Jordi Cruz's restaurant in Barcelona; Lasarte, Martín Berasategui's establishment also in the capital; and Celler de Can Roca, run by the three Roca brothers in Girona, continue in the gastronomy elite in the Michelin Guide for 2022. Its edition for Spain, Andorra, and Portugal was presented on Tuesday evening in Valencia, where it was announced that Celler de Can Roca has now also a green star as a recognition for its commitment to sustainability.
Yet, Catalan chef Jordi Cruz has yet another reason to cheer: one of his other restaurants, Atempo, also in the Catalan capital, has been awarded a star. It used to have one when it was located in Sant Julià de Ramis, close to Girona, but lost it when it moved to Barcelona.
Cruz now owns six Michelin stars, with three at Abac, two at Angle – in the same city – and the newly awarded one at Atempo. He is approaching the seven stars that for a period of time the also Catalan chef Carme Ruscalleda achieved in the 2010s.
No other restaurants in the country have progressed in the Michelin rankings, and three have disappeared from the list due to their closure: chef Albert Adrià's Tickets, Hoja Santa and Pakta.
Overall, Catalonia boasts 64 Michelin stars in 49 different restaurants, six fewer establishments than last year.
The guide presented in Valencia covering three states includes 1,362 establishments, 11 of which obtained three stars, 40 boasting two, and 211 that have one.
Podcast
Check out our podcast on Catalonia's haute cuisine published in August:
Last year
At the virtual gala for last year's Michelin Guide 2021, held exactly a year ago, two Catalan restaurants earned their second Michelin star, and the number of dining establishments honored with three stars also remained the same, at three.
Restaurants Bo.TiC, from the Baix Empordà county and led by chef Albert Sastregener, and Cinc Sentits in Barcelona with Jordi Artal at the helm were the two establishments awarded with their second Michelin stars.
A total of 21 establishments were given a green star, including Casa Albets in Lleida, Hermanos Torres Kitchen in Barcelona, Els Casals in Barcelona, L'Antic Molí from Tarragona, Les Cols in Olot; Lluerna, from Santa Coloma de Gramenet, ​​and Somiatruites, from Igualada.
In previous editions of the Michelin Guide, chef Jordi Cruz was rewarded with his third star for ABaC, the brothers in charge of Cocina Hermanos Torres were recognized for their gastronomic ideas, while Catalonia boasted four restaurants with three stars for the 2018 guide.