Michelin Restaurants Catalonia 2019
Brothers Sergio and Javier Torres shine with two stars for new project 'La Nau dels Somnis' while new list entries include La Barra, l'Oria and Terra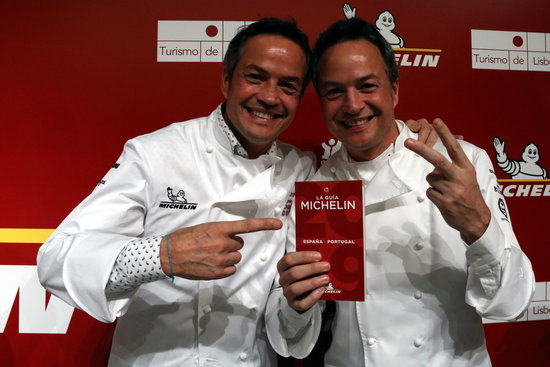 The new restaurant by chefs Sergio and Javier Torres, 'Cocina Hermanos Torres,' shines as one of Catalonia's most exciting new gastronomy proposals.
The restaurant won two Michelin stars at a gala celebrated on Wednesday in Lisbon. The Torres brothers thus retake the two stars from their previous project, the 'Dos Cielos' restaurant on the 24th floor of the Hotel Melià in Barcelona, recently closed.
After more than a decade at 'Dos Cielos', the Torres brothers decided to open their new, "more personal" project last June. 'Cocina Hermanos Torres' (which they call 'La Nau dels Somnis,' referring to the fact that it is the culmination of their dreams) is a restaurant in a former industrial unit in Barcelona with the kitchen right at the center of the dining room.
A former chef in world-renowned 'El Bulli', Carles Abellán, was one of the new Catalan entries at the Michelin list. Abellán's 'La Barra' opened last year and is specialized in seafood.
Oria, a new restaurant by Martín Berasategui in Catalonia's capital, also won its first Michelin star. The restaurant is in the hall of the Hotel Monument in Barcelona's Passeig de Gràcia and offers a gastronomy proposal based on the flavors of the Mediterranean. Berasategui now has won ten Michelin stars total.
Terra, the first adventure by Chef Paco Pérez, was inaugurated last March in the beautiful sea town of S'Agaró, and also won its first Michelin star.
Catalonia also maintains its three-star restaurants, world-renowned 'El Celler de Can Roca', Lasarte by Berasategui, and ÀBac by Jordi Cruz.
In total, there are 65 Michelin stars at Catalonia's restaurants.