Two Catalan restaurants earn second star in Michelin Guide 2021
Three more dining establishments earn their first star, while the guide introduces new sustainability distinction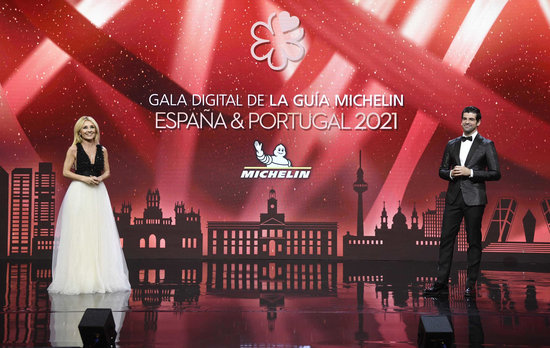 Undoubtedly, food is one of the crown jewels of Catalan culture. From the magnificent tapas bars up and down the land to the fine dining experiences of the likes of Carme Ruscadella and the Roca brothers, Catalonia boasts some of the most amazing dishes the world has ever seen.
At the virtual gala for this year's Michelin Guide 2021, two Catalan restaurants earned their second Michelin star, and the number of dining establishments honoured with three stars remained the same, at three.
Restaurants Bo.TiC, from the Baix Empordà county and led by chef Albert Sastregener, and Cinc Sentits in Barcelona with Jordi Artal at the helm were the two establishments awarded with their second Michelin stars.
Catalan debuts in the 2021 Michelin Guide for Spain and Portugal are A Tempo in Sant Julià de Ramis in northern Catalonia, L'Aliança 1919 d'Anglès in Selva, also in the north, and Quatre Molins, in the Priorat area of southern Catalonia.
One of the biggest pieces of news from this year's gala was that all eleven restaurants with three stars remained stable, with none dropping ranking and no other eatery joining them on the prestigious list.
Three of those establishments are in Catalonia; La Celler de Can Roca in Girona, Lasarte in Barcelona, and ABaC, also located in the Catalan capital.
New this year was the introduction of the 'Green Star' award, recognising quality prepared in a sustainable manner and chefs particularly committed to the environmental cause.
A total of 21 establishments have been named in this category, including Casa Albets in Lleida, Hermanos Torres Kitchen in Barcelona, Els Casals in Barcelona, L'Antic Molí from Tarragona, Les Cols in Olot; Lluerna, from Santa Coloma de Gramenet, ​​and Somiatruites, from Igualada.
In previous editions of the Michelin Guide, chef Jordi Cruz was rewarded with his third star, the brothers in charge of Cocina Hermanos Torres were recognised for their gastronomic ideas, while Catalonia boasted four restaurants with three stars for the 2018 guide.