All I want for Christmas...is poo
Rosalía, Boris Johnson and Greta Thunberg among latest 'caganers,' anyone's dream Christmas present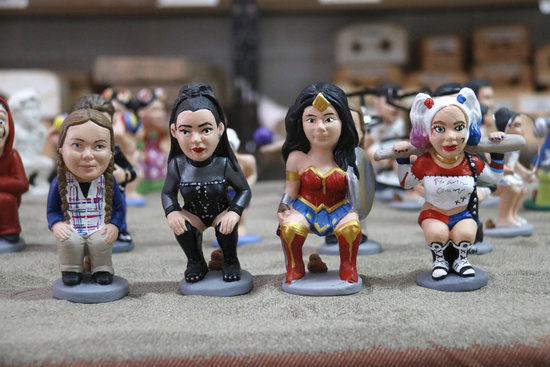 The 'caganers' are a long-standing tradition in Catalonia, dating back as far as the 18th century. Literally meaning 'crapper,' the figurine traditionally depicted a peasant defecating on the floor, and a company has kept the tradition running in the modern day by depicting a new cohort of celebrities carrying out mother nature's dues every year.
Not kidding. Just look it up. The 'caganers' are one of several feces-orientated traditions during the explosive Catalan festive season, along with the 'CagaTió,' which is, in essence, a shitting log.
It's thought to have stuck around because it brings good luck, as poo is a good fertilizer. Climate change activist Greta Thunberg, one of the new figurines this year, won't mind too much then.
Pop culture figure Rosalía has also been added to the collection - the Catalan singer, widely known for her image, will surely be thrilled with her figurine.
British PM Boris Johnson and Spain's People's Party leader Pablo Casado are the politicians included this year.
Fantasy figures do not go amiss, as the inclusion DC superheroes Harley Quinn and Wonder Woman will delight comic book fans by demonstrating that even those who defy the laws of physics are constrained to those of biology.
Meanwhile the tale of Joaquin Phoenix's DC supervillain Joker, which has been shocking viewers in cinemas this fall, takes an even darker plunge as he is added to the collection.
From the world of sport, basketball star Pau Gasol, Wimbledon champion Novak Djokovic and Real Madrid summer signing Eden Hazard translate their ball skills into bowel skills.
Some old character favorites have also been brought back, such as Mr Bean and Lionel Messi.
Previous best sellers include US president Donald Trump, his predecessor Barack Obama, former Catalan president Carles Puigdemont, and the Queen of England.
The tradition is growing year upon year, so if you're in Catalonia at some point over the festive period, why not embrace the local bowel obsession.
There are fifty figurines on sale in time for the festivities this year, all of which can be found on www.caganer.com for between €12 and €17. It's too good to be poo.