New Year's Eve in Catalonia: what to do
Farmhouses, a Times Square-like party, LGBT events… and plans for the morning after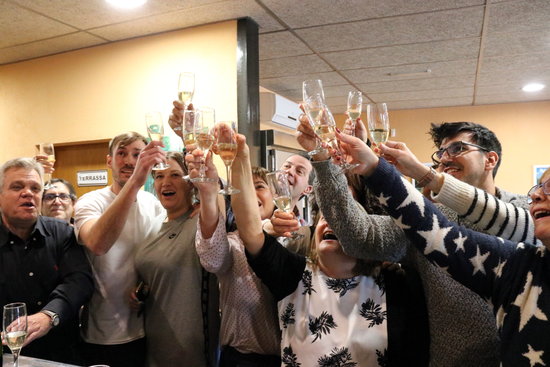 It's been an intense year in Catalonia, but let's forget about the news cycle for some days and enjoy the coming of 2019 the best way you can. It goes without saying that if you want to follow the local traditions, you must be ready to eat 12 grapes, one for each stroke of midnight, and drink cava to celebrate the coming of the new year.
With its Mediterranean coast and the snowy Pyrenees, and its always vibrant capital, Catalonia has plenty of options to offer for New Year's Eve. We hope you find the one that fits you best, and we wish you a happy new year!
Warming up: the noses race
If you want to warm up for a long night, there are plenty of Sant Silvestre races held all throughout Catalonia that you can run. The most famous one is arguably Barcelona's Cursa dels Nassos (Race of the noses). According to the legend, 'L'Home dels Nassos' (Catalan for the man with many noses) has just as many noses as there are days left in the year. He only goes out once: on December 31, the only day when such a notable feature would most likely go unnoticed.
Snow and cava in the Pyrenees
Bordering in the north with the Pyrenees, Catalonia is the home of several ski resorts, such as La Molina, La Masella or Bequeira Beret. If you're planning to spend New Year's Eve in the snow, most hotels and resorts will be organizing special events for their customers. Just make sure to book it ahead of time… as well as to get some rest if you're planning to go skiing the morning after.
The biggest party in Catalonia
Just like Times Square for New York, Barcelona has its own go-to place for locals and visitors willing to celebrate the coming of the new year out in the open and surrounded by thousands of people. Catalonia's biggest party will start at 9:30pm in Avinguda Maria Cristina, in front of the Montjuïc Magic Fountain and the MNAC museum. It will be a night of fireworks, music and grapes.
LGTB-friendly parties
Barcelona is known worldwide as a gay-friendly city, so you've come to the right place if you're looking for the best LGBT New Year's Eve parties. Some bars and concert halls organizing queer events include Razzmatazz, La Casa de la Pradera, Safari Disco Club and La Federica.
Biocap Festival: 12 hours of music
A new festival will kick off this year with 12 hours of music, two stages and 100% ecological food. Starting at 6pm in the Fira de Barcelona-Gran Via, in L'Hospitalet de Llobregat, next to Barcelona, the Biocap Festival will run until 7am with concerts by some of the most popular bands of the moment, such as Mala Rodríguez, Iseo & The Dodosound, Doctor Prats, La Sra Tomasa, and Balkan Paradise Orchestra. The festival also invited international artists like Aba Shanti and Sista Habesha.Farmhouses or mountain huts
Farmhouses and mountain huts
Many groups of friends prefer to stay away from the city and organize their own party to celebrate the coming of 2019 in the countryside. With a rich rural heritage, Catalonia has plenty of farmhouses and cottages where you can stay for New Year's Eve. If you love nature and you are an experienced mountaineer, there are also many huts in the Pyrenees where you can sleep for free.
Bonus track: what to do the morning after
If you don't go to sleep very late, or if you're willing to stay awake until 7am, we recommend you the 'Aplec del Sol Ixent" to see the sunrise in Cadaqués, an idyllic seaside town north of Barcelona where the Catalan artist Salvador Dalí lived for many years. In Barcelona, the so-called First Swim of the Year brings hundreds of people to La Barceloneta beach to take a dip, despite the cold. Later, the Club Natació Atlètic-Barceloneta offers the brave participants soup.