Meet Catalonia's oldest person, a 112-year-old
Maria Branyas was born in 1907 and still remembers World War I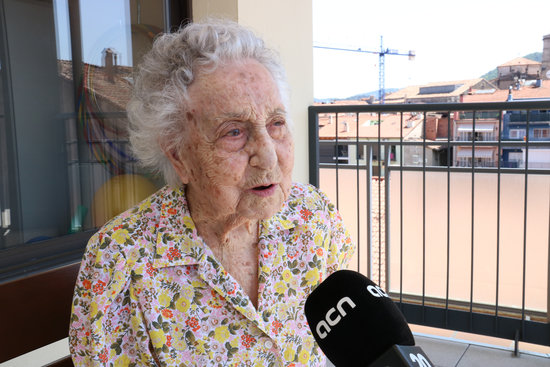 Remembering an event that took place more than 100 years ago is something Maria Branyas, the oldest Catalan person alive, is able to do.
Branyas was born in San Francisco in 1907 to a Catalan family who had moved to the United States. A few years later her mother decided to return to Catalonia, and Maria still remembers their way back by ship. It was 1914, and the world was at war.
"We came here on a boat. Because of the war, Germany was still attacking the North, and you couldn't go through the Nordic seas, but we could go further down, through the Azores and Cuba," she says in an interview with Catalan News. "In 1914 I was already a bit aware [of what was happening]," Branyas adds in a slow, but firm tone.
Indeed, she recalls both world wars: "They were very harmful in Europe, but they also brought some advances."
Branyas, who was born the same year the first car was registered in Barcelona, also has fresh memories of the Spanish Civil War (1936-1939). "I have very bad memories of it, some people rose up and started to commit atrocities when no one was talking about it."
As for the subsequent four-decade fascist regime, she says that "everyone knows what a dictatorship is," although she considers that during Francisco Franco's rule "a lot of families lived well."
Comparing society of 1900s and now
Maria Branyas probably met people who were born before the first railway opened in Catalonia in 1848 and is able to compare ways of life in the past century to those of the current one.
"Since 1900 everything has changed completely, a great deal, with very advanced aspects, and everything has been advancing so much, especially with the way people communicate. Now it's very easy, but before it was very difficult."
She also emphasizes the role money plays now: "It's another way of living, now people live differently. Money is the main thing, and you get almost everything with it. We couldn't have imagined that. It was different, we lived better, more peacefully and more joyfully."
Her secret for a long life
But… What's her secret to living so long? "An orderly life that is socially very pleasant, and well, a good life, without excesses."
Her love for her children and other descendants make her want to live even longer, she tells CN, as well as the fact that "there is always something left to learn."
She has lived at an old folks home for 19 years, the Residència Santa Maria del Tura in Olot (northern Catalonia). Its director, Montse Valdayo, is amazed at being able to share time with Branyas. "She gives us lessons in life and history every day. She is very intelligent and nice," she says.
According to Branyas' relatives, she "has never had a major health issue". And she herself, a mother of three, grandmother of 11 and great-grandmother of 11, confirms this: "For the time being I am in good health. I can still enjoy the great advances that the country provides us, although they are not for me anymore."
'Supercentenarians'
Maria Branyas, over 40,000 days old, is the oldest person in Catalonia, the third oldest in Spain and she is among the 30 oldest in Europe. Joaquim Illas, who has recently turned 110, is the oldest man in Catalonia and the second oldest person after Branyas, according to the Gerontology Research Group. They are both 'supercentenarians,' meaning people who have lived more than 11 decades.
There are 14 times more centenarians now than in 1981, with 1,950 people (as of 2017, according to Idescat) compared to the 140 four decades ago, and there are around 100 people over 105, which is ten times the 1981 figure.