Digital edition of 080 Barcelona Fashion aims to be worldwide 'benchmark'
Streamed fashion shows will be like 'a giant Instagram' says one featured designer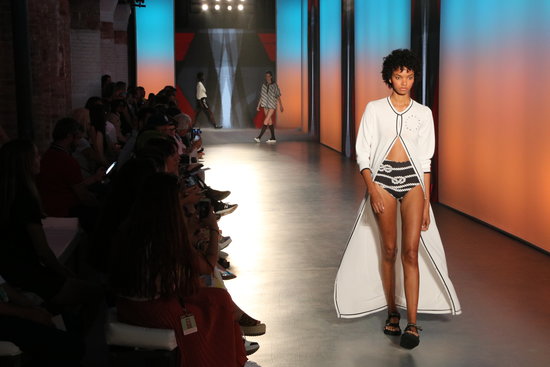 A 100% digital edition of 080 Barcelona Fashion launched on Monday aiming to cement Barcelona's reputation as a worldwide 'benchmark' for the fashion industry.
Around twenty fashion designers and brands will present collections during 2020's second edition of 080 Barcelona Fashion, in films specially recorded at the world's largest Art Nouveau complex, Barcelona's Sant Pau.
The organizers are hoping to reach new audiences by streaming fashion shows - and spin off-talks on business and technology themes - via their online platform, 080 TV.
At the launch, CCAM (Consortium of Commerce, Crafts and Fashion) director Muntsa Vilalta said the latest edition would be "more international than ever," and praised the designers taking part.
"We want to thank the designers and brands that have made this unique event possible," she said. "We live in an era of uncertainty but also of opportunities. And digitalization is an opportunity to widen the reach of Catalan fashion and reach new audiences at an international level."
Vilalta noted that the fashion industry employs some 75,000 people in Catalonia, and that the digital edition of 080 Barcelona Fashion, which is promoted by the Catalan government, "maintains the philosophy" of previous editions. "It highlights the tradition of the textile industry in Catalonia, with its talent and creativity, and the prestige of Catalonia and Barcelona as hubs of design and fashion."
The catwalk shows kick off at Monday from 6.30 pm with Barcelona-based haute-couture fashion brand Menchén Tomàs getting proceedings underway, followed by shows from Julià G. Escribà (7.30 pm), All That She Loves (8 pm), and Mans (8.30 pm).
Jaime Álvarez, the founder and creative director of Mans, said the transition to a digital festival hadn't proved difficult for him and his peers. "Young brands are steeped in digitalization, social media and videos," he said, likening this edition of 080 Barcelona Fashion to "a giant Instagram."
080 Barcelona Fashion runs until Thursday, September 17.