Barcelona to switch on Christmas lights on November 24
Event will take place in Nou Barris neighborhood square with family spectacle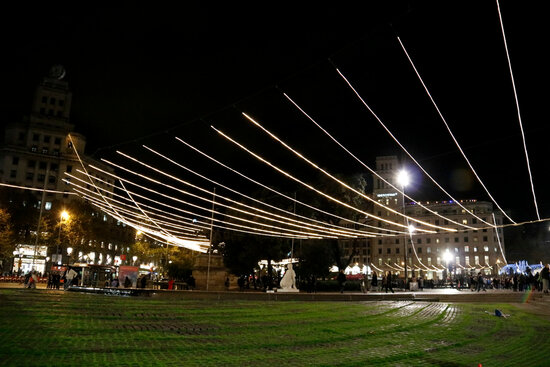 'Jingle bells, jingle bells'... yes, it is that time of the year again, and Barcelona will celebrate the arrival of the Christmas season with a family spectacle to switch on the Christmas lights on November 24.
This year's ceremony will take place at Plaça Major square in the Nou Barris neighborhood at 6:30 pm, just after a show that will celebrate the festive season at 6 pm.
The "Anys Llum" (light years) spectacle will travel through history from the discovery of fire to the Roman empire, the Middle Ages, and the discovery of electricity before returning to the present.
Cold or not, the show will feature dozens of songs sung by a dozen actors and the members of the Raval Choir.
The show will move from Plaça de Catalunya square, where it was held last year, to the city neighborhoods as the city council championed the idea of "decentralizing" the performance and hosting it somewhere new every year.
"We want to consolidate the Christmas season model of culture and creativity that we have been pushing these last years, which is compatible with the different activities in our streets, squares, and commercial establishments, so Christmas can reach the entire city," Jaume Collboni, Barcelona's deputy mayor, said on Tuesday during a press conference.
Last year, Plaça de Catalunya square hosted the ceremony because shops in the area had been heavily impacted by the pandemic. This year the square will still shine during the festivities - but Collboni did not want to spoil any surprises.
Christmas lights will be on from November 24 to January 6.
New Christmas lights in city center
While three key commercial locations in the city center will have the same lights up as last year, Passeig de Gràcia boulevard will revamp its Christmas decorations.
Plaça Catalunya square, Aragó street (between Bailèn and Aribau), and Gran Via avenue (between Bailèn and Muntaner) saw new designs last year after a decade with the same lights. Toni Arola, famous for his original lamps, was in charge of designing them.
This year, it is time for Passeig de Gràcia boulevard, as well as Plaça Urquinaona avenue, Paral·lel avenue, and Via Laietana boulevard.
Lights off early to save energy
High energy prices will have a direct impact on Barcelona's Christmas season as lights will be switched off earlier than usual.
From Sunday to Thursday, lights will be on from 5:30 pm to 10 pm, while Fridays and Saturdays they will be switched off at 11 pm.
On special days such as December 24, and 31, and January 1 and 5, lights will be on until midnight.
Despite this reduction and the expected 31% drop in energy consumption, the city council will spend an estimated €2.3 million on Christmas lights, up from last year's €2.15 million.
New Year's Eve party returns
Barcelona's big New Year's Eve bash will make a welcome return to Avinguda Maria Cristina this year after a two-year hiatus due to pandemic restrictions.
There you can join the thousands of locals and visitors alike who gather at the foot of Montjuïc to ring in the New Year with music, fireworks, cava and of course, a dozen grapes – one for each chime of the clock at midnight.