Barcelona cancels its New Year's Eve alternative party
Mayor Ada Colau says that "everything was ready" for ringing in 2022, but does not discard a Three Kings parade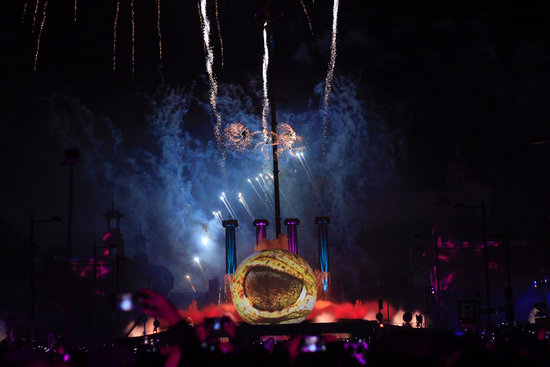 The clock is ticking to strike midnight on December 31 to welcome 2022. Barcelona's city council was planning a different ceremony compared to previous years, but on Tuesday, mayor Ada Colau announced that everything had to be canceled.
"Unfortunately and despite having everything ready, it will not be possible," to party the way in 2022, said Ada Colau during a press conference.
Catalan authorities announced new measures on Monday evening in an effort to stop the relentless spread of Covid-19.
Gatherings will be limited to 10 people, there will be a curfew from 1 am to 6 am in municipalities with over 10,000 inhabitants and an incidence rate of over 250, the nightlife sector will be forced to close, and new capacity limits will be put in place: 50% in indoor seating areas of restaurants and 70% in gyms, cultural venues, and stores.
Barcelona mayor announced cancellation weeks after sources from the City council said that an alternative party was being organized.
Colau, however, did not discard a Three Kings parade. Last year it was canceled because of the spread of the coronavirus but on Monday, Catalan health minister, Josep Maria Argimon, said that parades would not be pulled off.
Last year, the pandemic forced authorities to cancel the event for the first time since it started. Officials opted instead for a decentralized version, following the 'Piromusical' music and fireworks show celebrated during La Mercè', Barcelona's largest festa major public street party.
At midnight, the city welcomed 2021 with 12 fireworks, one per each time the clock struck midnight. After the first fireworks, there was a huge 15-minute display with around 1,000 explosions during the final minute. The decentralized plan allowed everyone to see the show from their homes.
A relatively new public party
New Year's Eve used to be an evening of private celebrations in Barcelona, until 2013 when, for the first time, a large-scale event was organized by Barcelona's Tourism board.
That first year, a show started around 30 minutes before midnight, following a fireworks display. The spectacle featured a 15-meter tall sculpture as the main character.
The display after midnight was only 10 minutes long, but during that time around one tonne of fireworks were lit.