Barcelona area beaches to stay open for Sant Joan festivities
Safety measures proposed in Catalan capital but nearby Castelldefels, Gavà and Viladecans set to close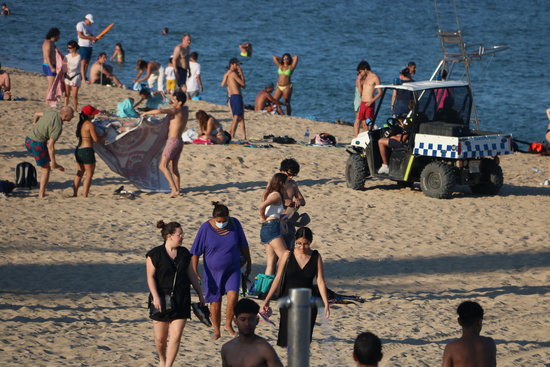 Barcelona and some other coastal cities and towns in the metropolitan area have agreed to keep their beaches open for the Sant Joan festivities on the night of June 23.
Barcelona city beaches
On beaches located in the city of Barcelona, specific access points will be set up and alcoholic beverages, tents, and musical instruments will not be allowed.
While Catalonia's Civil Protection agency had recommended that beaches be closed, local councils from Barcelona and surrounding municipalities agreed on Wednesday that that was "hardly viable," as explained by Barcelona Deputy Mayor for Security, Albert Batlle.
In fact, Batlle pointed out that the curfew was lifted almost one month ago and said it was necessary to restore "some normality". He said that spaces would be managed to make sure people are spread out in order to avoid overcrowding.
Vehicle access will also be severely limited, although the exact details are still to be worked out, explained the deputy mayor.
No consensus
According to Batlle, representatives from Castelldefels, Gavà, Viladecans, El Prat, Barcelona, Badalona, and Sant Adrià de Besòs attended the meeting on Wednesday.
But, despite Barcelona City Council suggesting there would be consensus on opening the beaches, some local authorities, including Gavà, Castelldefels, and Viladecans have since said they will close them.
Sitges and Vilanova beaches closed, Tarragona and Maresme open
The mixed picture continues outside the metropolitan area too. Both Sitges and Vilanova i la Geltrú have announced they will close their beaches for the night of Sant Joan, whereas beaches in Tarragona are set to remain open.
According to Vilanova i la Geltrú council, the decisions by the neighboring Castelldefels, Gavà, and Viladecans councils to close their beaches influenced their own planning, as they feared that people from those areas could travel for the festivities.
Sitges council has come to the same conclusion, but in both towns, beachfront restaurants will remain open until closing time, currently set at 1 am.
In contrast, further south along the coast in Tarragona, beaches will be open to the public but traditional Sant Joan bonfires will not be allowed, nor will the consumption of alcohol.
Similarly, beaches in Maresme county, north of Barcelona, will be open to Sant Joan revelers on June 23, although Montgat is yet to announce a decision. Cars will not be allowed to drive along the beach promenade in Mataró, while the towns of Cabrera de Mar, Canet de Mar, and Caldes d'Estrac have prohibited bonfires.
Bonfires and fireworks
Sant Joan is a midsummer festival celebrated with bonfires and fireworks. Beaches are often the focal point of the festivities with plenty of food and drink to accompany the spectacle.
As was the case in pre-pandemic years, any stragglers still enjoying the festivities in Barcelona come 6 am will have to leave in order to allow the sands to be cleaned for beachgoers arriving the next day.
Article updated June 13, June 14, June 16, and June 17 as various councils revealed their decisions.