Why the Catalan coalition government collapsed after just 500 days
Different strategies towards independence end ten years of cooperation between two main sides of movement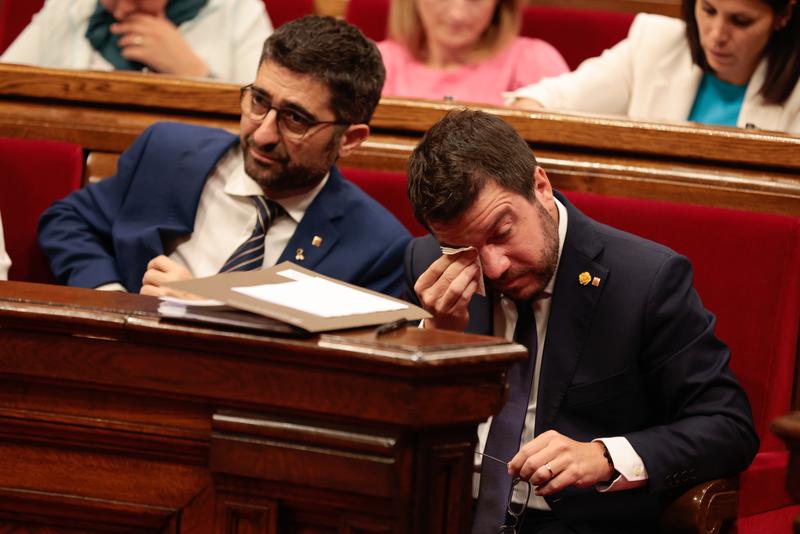 51.16% of those who voted in the Catalan election on February 14, 2021, chose a party in favor of independence, an unprecedented success for the movement.
For the first time, those who wanted to split from Spain outnumbered those who want to remain, plus the non-aligned, in an election.
However, the turnout for the vote was a historically low 51.29%, as it took place amid the third wave of the Covid-19 pandemic when most people were still not vaccinated. Regardless, pro-independence political forces celebrated their major feat, which also included a third consecutive absolute majority in seats.
There were cheerful atmospheres in their headquarters, especially Esquerra's, who had overcome rival Junts for the first time, by the skin of their teeth.
Different strategies towards independence
Yet, the first sign that it would not be a placid term with a unified pro-independence government arose that very same night.
Junts frontrunner, Laura Borràs, said that there was "an absolute majority to move forward towards independence," just hours after making known she had the October 1, 2017 referendum in mind when casting her ballot.
Meanwhile, Esquerra Republicana's party president, Oriol Junqueras, said that he wanted to build consensus around "self-determination and amnesty" for those in 2017 referendum-related judicial procedures among pro-independence CUP and Junts, but also with En Comú Podem, a party not aligned on the independence issue.
The opposing strategies on how to pursue independence had been pretty clear during the electoral campaign – as well as in the outgoing shared executive led by Junts –, but that night and the days that following, the split was confirmed: Borràs's party wanted to continue the confrontational approach with Spain that peaked in 2017, while Junqueras's prioritized trying to persuade Madrid to agree to a referendum.
While voters in favor of exiting Spain at first welcomed the results, they soon realized the road to independence was a rocky one, and not only because Madrid will always fiercely be opposed to it.
Three-month rocky coalition negotiations
Esquerra and Junts ended up reaching a coalition deal, but only after three months of difficult talks in which far-left CUP also agreed to give their key votes for the deal to work while staying in opposition.
ERC's Pere Aragonès was sworn in as president in May 2021, but not after being rejected by Junts twice before their final approval, which made Esquerra officials suggest they could go solo – something that will end up happening now 501 days later.
While the Socialists actually came out on top in the election, they were lacking support from other parties to govern, and ultimately there were not many other options remaining apart from an understanding between Junts and Esquerra who opted to continue working in a shared cabinet that was formed after a snap election called amid a lack of understanding while governing together between 2018 and 2020.
Nor did confidence grow between the two sides when the Aragonès era began: after the summer break, the first major clash in the cabinet arose. Once again, for their clashing strategies on to achieve independence.
Junts rejects participating in talks with Spain
The coalition deal included resuming talks with the Spanish government over an amnesty and a referendum of self-determination, and this happened in September 2021 – yet, Esquerra and Junts clashed over who to send to the summit.
While the former said only government members could participate, the latter wanted other officials to take part and ultimately refused to attend the talks.
Junts did not join either of the two meetings between governments that have taken place during Aragonès' mandate.
Disagreements on Barcelona airport expansion
This major dent in the confidence and trust between allies saw their relationship begin to erode, which also came at the same time the then-vice president Jordi Puigneró sealed a deal with the Spanish government on the expansion of Barcelona's airport.
Yet, while pro-business Junts pushed for the new infrastructure, many Esquerra officials showed scepticism, voicing environmental concerns in particular.
Meanwhile, both parties found common ground on some other big projects, such as a 2030 Winter Olympic bid in Barcelona and the Pyrenees – yet, this project failed after no consensus with the other region involved, Aragon, was found this spring.
Esquerra greenlights suspension of Laura Borràs as parliament speaker
Another crucial moment to understanding the disconnect between the two mainstream sides of the independence movement is the suspension of Laura Borràs as parliament speaker.
The Junts party president has an open judicial case over alleged irregular contracts pending, and the Catalan parliament has a regulation obliging its bureau to suspend any MP that has a trial pending for a crime related to corruption.
When Borràs was officially sent to the dock on July 26, Esquerra sided with the Socialists and the rest of the parties in the chamber in considering her case involved corruption and contributed to suspending her – meanwhile, she and her party argued the case is about "Spanish lawfare" and claimed persecution of pro-independence leaders.
These different events built tension and the situation escalated on August 29 when Junts stated that the government's shared goals toward independence were not being complied with, and began to work on an internal vote.
National Day protest puts pressure on pro-independence parties
A faction of grassroots campaigners put pressure on parties to move forward in splitting with Spain in a National Day protest that explicitly criticized them.
"We cannot trust the parties to do the work and, for this reason, we are determined to do it with the people," said the leader of the organizing entity ANC a few days before September 11.
As a result, President Aragonès rejected attending the rally while Junts joined it. In the end, 150,000 people took to the streets, according to local police, a figure far from the record 1.8 million seen in 2014.
Motion of confidence proposal and VP sacked
The final crisis resulting in the breakup began last Wednesday, when the Catalan president, Pere Aragonès, of the senior coalition partner Esquerra Republicana, fired his vice president, Junts' Jordi Puigneró as his number two after a day of crisis talks both within and between the two parties. The president took this decision citing a loss of confidence in his second-in-command in the cabinet after Junts suggested a motion of confidence in the head of government during the general policy debate.
Junts then set Aragonès a deadline of Sunday to reach an agreement on the conditions to stay in the executive, but at the same time announced an internal vote for this Thursday and Friday where their members would be asked whether or not they should stay in the coalition or leave.
No deal was reached by Sunday and party members cast their ballots knowing no consensus on the way forward together was in place.
10 years of cooperation to reach independence end
Junts has only existed since 2017, but mostly as an heir to PDeCAT plus some independent candidates, which in turn was the heir of the old nationalist party Convergència Democràtica de Catalunya (CDC), which ruled Catalonia for many years.
After a stint of support from the People's Party from 2010 to 2012, Convergència shifted to pushing for a Catalan independence referendum and governed solo from 2012 to 2015 but with Esquerra's support while in opposition.
From 2015 to 2017, both sides of the mainstream independence movement governed together under the platform Junts pel Sí until the 2017 referendum.
Junts and Esquerra continued to share the cabinet from 2018 until this Friday, ending ten years of non-stop cooperation.