Trap and flamenco at Sónar
Dellafuente, Stormzy and Underworld, main bands playing at iconic electro music event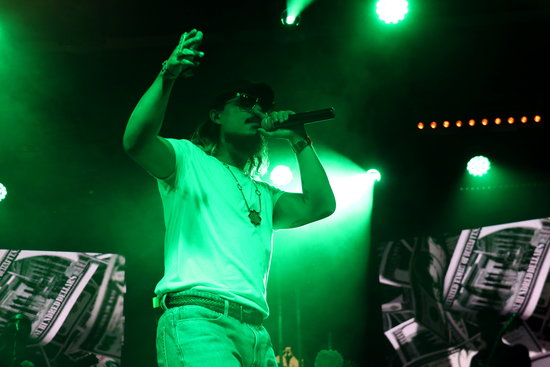 The second night at Sónar music festival saw a mix of trap, flamenco, urban and electronic beats altogether.
Dellafuente, from Granada, southern Spain, was one of the most relevant bands to play in the evening.
With his trap and flamenco music, he was able to delight the fans – his personal story might have also contributed too. Dellafuente has been able to hit the top of the rankings editing his albums himself, such as 'Ansia Viva' (2016). He has also created his own fashion and merchandising brand, Dellafuente FC.
Later at night, many other bands also played at the iconic festival, such as Stormzy, Underworld and Disclosure DJ Set.
The three-day event started on Thursday with the likes of Dengue Dengue Dengue and Daito Manabe, and will come to an end on Saturday night, with local Bad Gyal among others. The concerts will end in the early hours of Sunday – or not so early, at 7am.
105,000 fans attend Sónar
Sónar announced on Saturday that 105,000 people will have attended the show, meaning a decrease by 21,000 compared to the 2018 edition.
The strike of the riggers, in charge of assemblying the sets, added some uncertainty over whether the event would take place, less than a week before the festival. Yet in the end, a judge allowed the organizers to employ an alternative company to assemble the sets.
Another likely cause of the drop is the change of dates: Sónar is usually held in late June, but the unavailability of the venue forced the organizers to delay it until mid-July.