The Barcelona Vampiress triumphs at the 2021 Gaudí Awards
Success for Schoolgirls and My Mexican Bretzel at the Catalan film industry's gala ceremony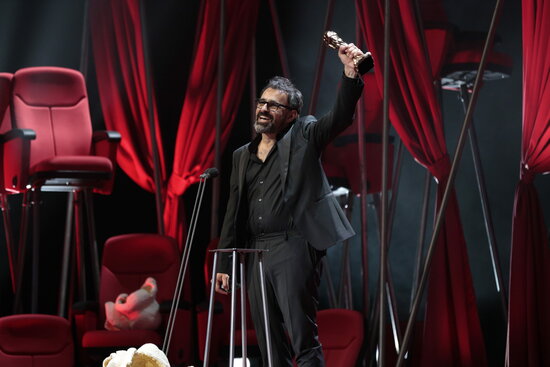 The Barcelona Vampiress (La vampira de Barcelona) was the big winner at the 2021 Gaudí Awards on Sunday evening, winning five awards including Best Film and Best Artistic Direction for Lluís Danés, as well as Best Costume Design, Best Visual Effects and Best Makeup and Hairstyling.
It tells the story of Enriqueta Martí, a real person who lived in the early part of the 20th century and passed into urban legend as the Vampire of Raval.
With women making up more than half of the nominees at the 2021 Catalan equivalent of the Oscars, there was major success for Pilar Palomero's Schoolgirls (Las niñas) and Núria Giménez Lorang's My Mexican Bretzel, which picked up four and three statues respectively.
Schoolgirls won Best Film not in Catalan, Best Director, Best Photography and Best Sound, while My Mexican Bretzel won Best Documentary, Best Screenplay and Best Editing.
Candela Peña was awarded the Best Actress award for Rosa's Wedding (La boda de Rosa) and Mario Casas won Best Actor for Cross the Line (No matarás), while Best Supporting Actress went to Verónica Echegui for The Offering (L'ofrena) and Best Supporting Actor to Alberto San Juan for The People Upstairs (Sentimental). Carme Elías was awarded the 2021 Miquel Porter Gaudí Honorary Award.
The ceremony took place in the Barcelona International Convention Centre's Auditori Fòrum with 700 people in attendance, 30% of the venue's capacity.
What are the Gaudí Awards?
The Gaudí Awards (Premis Gaudí) are an annual film ceremony in Catalonia, which began in 2009, having developed from the Barcelona Awards, which go back as far as 2002.
Antoni Gaudí, whom the prize is named after, was a Catalan architect, most famously known for his design of the unfinished Sagrada Familia in Barcelona.
More than 22 categories are included within the annual celebration, including Best Catalan Film, which requires a 20% Catalan participation within the movie's production to compete.
This requirement left the French-Catalan film Josep, which holds a prestigious 100% rating on film review site Rotten Tomatoes, out of the running. The film by French illustrator Aurel investigates the life of the Catalan republican cartoonist and exile Josep Bartolí and won the 2021 César Award for Best Animated Film.