Catalan-French 'Josep' wins César Award for Best Animated Film
Production investigates the life of the Catalan republican cartoonist and exile Josep Bartolí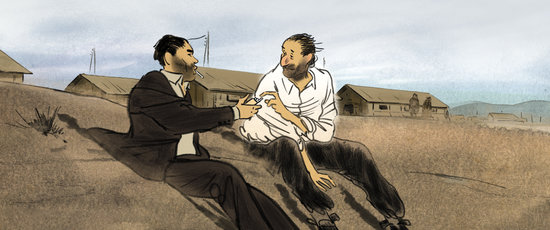 The Catalan-French production 'Josep' has won the César Award for Best Animated Film at the 2021 edition of the national film award of France and adds a prestigious one to its list.
In a ceremony held on Friday evening at the Olympia theater, in Paris, the film – participated by the Catalan public broadcaster Tv3 – prevailed over 'Petit vampire', by Joann Sfar, and 'Calamity, une enfance de Martha Jane Cannary', by Rémi Chayé.
The production has been a success in France and has achieved other prizes, such as the Best Animated Film and Best Music at the 26th Lumières Awards in January – the Catalan artist Sílvia Pérez Cruz composed its soundtrack.
The feature has also picked up the European Film Award for Best Animated Film and a similar award in Mexico's international film festival, in Guadalajara.
Mérida's Festival of New Films awarded 'Josep' with the Best Film, while Athens International Festival did so with the Best Script and the audience's prize.
Some other Spanish, French and Belgium festivals also gave prizes to the production.
The film by French illustrator Aurel investigates the life of the Catalan republican cartoonist and exile Josep Bartolí.
Plot
'Josep' follows the memories of an elderly dying gendarme who encountered the artist Bartolí in a French concentration camp after the Spanish Civil War had caused him to flee in exile.
Born in Barcelona in 1910, Bartolí was an artist, cartoonist, and writer involved in the syndicalist movement of the early 20th century. He founded the union of cartoonists and acted as political commissar of the POUM (Workers' Party of Marxist Unification).
By the end of the Civil War in 1939, he crossed the border into France, where he was detained by the Gestapo and sent to various concentration camps.
After jumping from a train that was transporting him to another camp, Bartolí eventually arrived in Mexico, where he met Frida Kahlo and Diego Rivera, before living and working in the United States. The Catalan artist passed away in New York in 1995.
The film 'Josep' stars the voices of Catalan actor Sergi López and singer Sílvia Pérez Cruz and Catalan, Spanish, French and English can be heard.