Step back to mid 20th century Barcelona at cutting-edge immersive exhibition
IDEAL digital arts centre exhibition brings the work of six Catalan photographers to life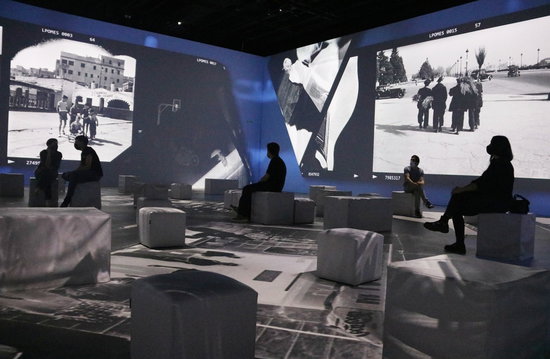 Step back in time to Barcelona in the 1950s and 60s through an immersive art exhibition that places visitors right in the heart of the artworks.
IDEAL digital arts centre, located in Poblenou in the Catalan capital, is one of the most unique galleries in the world, offering an experience of art very different from traditional galleries or museums.
Their latest offering, 'Barcelona Memória Fotogràfica: An unforgettable immersive experience through time,' showcases the work of six Catalan photographers who were active in the middle of the 20th century.
Photographers displayed
Through the works of Francesc Català-Roca, Oriol Maspons, Leopoldo Pomés, Joana Biarnés, Xavier Miserachs, and Colita, visitors will be able to see how the city looked over half a century ago and how it compares to modern-day Barcelona using current images.
Each of the photographers had a unique style of capturing life and society in Barcelona at the time. Maspons was renowned for photographing the more glamorous side of nightlife and culture, Biarnés documented The Beatles' trip to the Catalan capital, and many of Colita's photos displayed the essence of everyday life in different neighbourhoods.
"It's an immersive exhibition that we wanted to be a journey, not only inside the photographs but through time as well," the centre's director, Jordi Sellas, explained to the Catalan News Agency.
"These photographers conveyed the social context in which they lived through their work. They showed the change, transformation and contradiction that Barcelona was in the 50s and 60s."
During the exhibit, the exact locations of where every photograph was taken are mapped out onto detailed images of Barcelona.
Cutting-edge technology
With over 1,000 square meters of projection wall space and vast rooms where the art completely surrounds the visitor, IDEAL provides an experience of art that few other centres in the world could match.
A virtual reality tour of Barcelona through time shows exactly where the photographs were taken and how that part of the city looks today by comparison.
But the centre isn't only about 21st-century technology, as it also pays tribute to the history of photography and the original techniques of developing negative film rolls. IDEAL also exhibits some of the equipment and tools used to print photographs before the digital age, as well as showing an original film documenting the process.
Barcelona Memoria Fotografica is an exhibition that pushes the boundaries of how art can be consumed, while also celebrating the history of the Catalan capital.
The exhibition is available to visit at IDEAL until January 10, 2021.