Social transformation, resistance, and creation: international performing street arts festival to kick off in Tàrrega
FiraTàrrega will focus on artistic and social uses of public space from September 5 to 8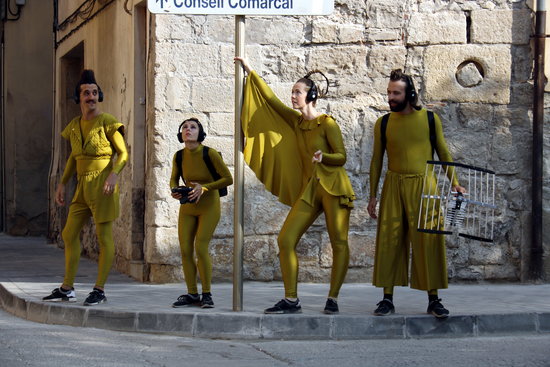 Taking place in Catalonia's western Lleida province, this year's edition of the FiraTàrrega international street arts festival that will kick off on Thursday evening is set to showcase 42 performances over the next three days that focus on the artistic and social uses of public space.
In a world in which, according to the organizers, we are witnessing a tendency towards greater complexity, an online 'mirror world' and an increase in authoritarianism coupled with fewer individual and collective rights, FiraTàrrega will strive to counter this with a celebration of social transformation, resistance and creation in public spaces.
Dating back to 1981, the annual festival is both open to the general public and a large networking event for industry professionals. This year it is expected to attract some 800 professionals from 20 different countries, promoting artistic exchange and hiring.
Some of this edition's acts will include Hotel Iocandi's circus act "Peix" touching upon the impact of mass tourism, power struggles and emptiness, Kernel Dance Theatre's "Give me protein" about body image stereotypes, Galmae's "C'est pas là, c'est par là" on the relationship between community and individualism or Hermanos Picohueso's "Excalibur," which satirizes society, power structures and fearmongering policies.