'Science friction': art exhibit questions human supremacy over living world
Barcelona's CCCB takes on anthropocentrism and reimagines relationship with other creatures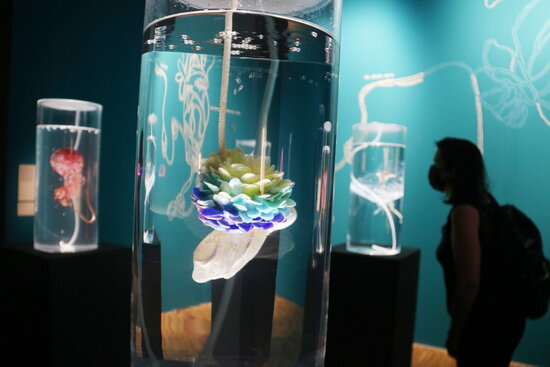 Are humans really superior to other species? Can our relationship with the animal world really change? These are the main questions posed by the new exhibition at Barcelona's CCCB: 'Science friction', which tries to imagine an alternate reality through art and popular science.
The exhibition's curator, Maria Ptqk, said that it's "somewhere in between being an arts space and a modern science museum". It was notably also inspired by the work of two key figures in contemporary science: Donna Haraway and Lynn Margulis, dedicated to researching symbiosis and interactions between species.
Ptqk underlined, therefore, that while art is important in communicating what the science says, the exhibition's base is "deeply scientific", with the fundamental theme being the topic of symbiosis.
Although, Ptqk emphasised the power that artistic "narratives" have in unravelling the myth of human supremacy, a story that we have been "telling ourselves" for years.
The "friction" therefore arrives when not all living things can be valued if we continue to buy into anthropocentrism. However, rather than dwell upon said "friction", the exhibition presents alternative stories and potential futures, offering us a view into multiple worlds in which humans and creatures could potentially coexist differently in the future.
Combining science and art
The scientific tale is translated into art for the exhibition in a variety of ways. For instance, there are immersive audiovisual installations, virtual reality technology, paintings, drawings and avant-garde cinema showings.
These works come from a variety of artists, scientists and thinkers from across the world, all hand-picked by Maria Ptqk.
Other collaborators include Ricard Guerrero, professor of microbiology at the University of Barcelona, and Rubén Duro Pérez, scientific writer, who both provided scientific advice.
The CCCB's new cycle also comes after a similar show was held at the Jeu de Paume Visual Arts Center virtual space in Paris, making it part of a greater research project surrounding symbiosis as well as the combination of art and modern science. It was also listed as part of Barcelona's science festival which took place between June 8 and June 13: Biennial City and Science 2021.
The exhibition runs from June 12 to November 28, costing €6/€4 reduced (1 exhibition) and €8/€6 reduced (2 exhibitions). Visits on Sundays from 15.00 to 20.00 are free of charge and must be pre-booked.