Rosalía's return to Barcelona with her 'Motomami' concert leaves fans breathless
Catalan artist releases new songs during sold-out gig ahead of a second show on Sunday night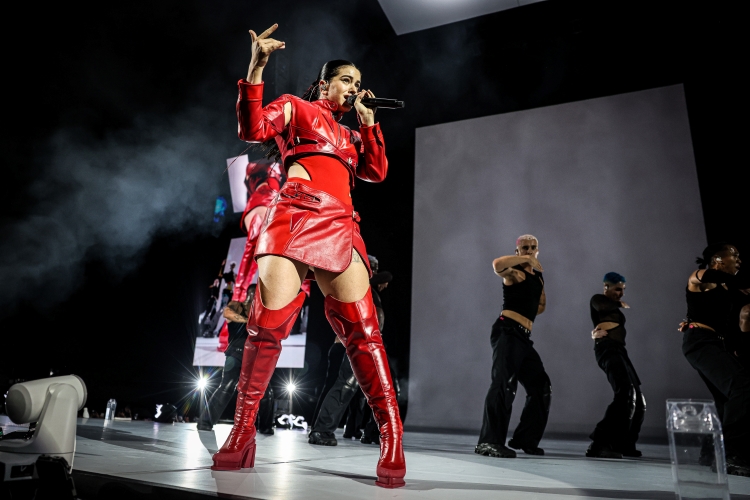 Months of waiting could only result in chants and applauses in a Palau Sant Jordi venue full of joy. Over 17,000 fans saw Catalan singer Rosalía in her return to Barcelona in what will be remembered as a breathless experience for many and an unforgettable moment for some when they were welcomed to dance on the stage with the artist.
Those attending the 'Motomami World Tour' show in the Catalan capital enjoyed Rosalía performing over 30 songs in an almost two-hour long gig. The vast majority were from her latest album released in March, but fans also sang some of her most famous anthems such as 'Malamente', her 'Blinding Lights' remix, and even the internationally known 'Gasolina'.
The concert started with a set of dancers surrounding the artist while wearing illuminated helmets only to delight fans with 'Saoko' as the first hit of the night.
On a big white canvas stage with two big screens by its side, Rosalía thanked Barcelona as "singing for my people and being at home makes me very proud," she said to a full site.
"Stages are my favorite place in the world, but being in the Palau Sant Jordi venue makes me feel even happier," she added.
Flamenco, reggaeton, pop… Rosalía sang in all possible music genres while the two screens showed every move she did on stage as if she was live streaming the gig on social media.
"B de Barcelona" she tweaked her ABCDEFG song before surprisingly changing the song again to say "M de Milionària," and performing her first song in Catalan that became a world hit when released in 2019.
The artist took over the Palau Sant Jordi, and one could even say that the venue was Rosalía's own beauty salon as those present got to see the Catalan pop star cutting her hair extensions and removing her makeup on stage before throwing a used towel at fans.
The same fans minutes earlier sang 'La Noche de Anoche' with her as she walked by the first row and handed the microphone to those enjoying the gig, and she even had time to sign a CD.
Only accompanied by eight male dancers on the stage, the musician from Sant Esteve Ses Rovires, 40km away from Barcelona, rode a human motorcycle while performing her 'Motomami' hit, the song that names her third album. She even sang two new songs that have not come out yet: 'Despechá' and 'Aislamiento'.
But one of the most beautiful moments was when in front of thousands of spectators she got to speak about her nephew whom she "loves very much and was growing up without me by his side," she said before singing G3 N15, read as 'Genís', his name.
Rosalía will do a second show, sold-out minutes after it went on sale, in the Catalan capital on Sunday night before traveling to other cities in Europe and across the world in a tour that will finish in Paris on December 18.
Now, it will be time for those present to decide whether Rosalía or her fans had more fun on her return home. She left fans with 'Con Altura' and asking for more after performing 'Chicken Teriyaki' while riding a kick scooter on stage.