Results of concert-experiment with 5,000 attendees to be announced next week
Data collection will end this Saturday and the results will be shared with government authorities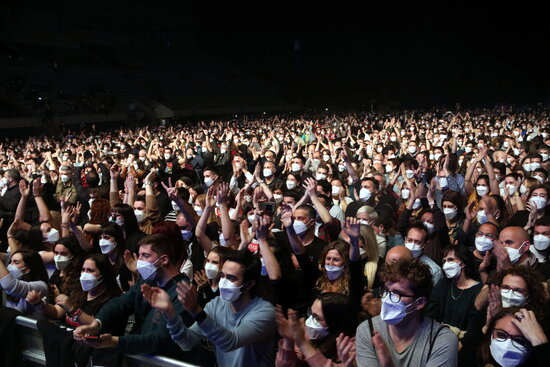 This Saturday, the results of the concert-experiment with some 5,000 attendees that took place in Barcelona at the end of March will be shared with government authorities.
Festivals per la Cultura Segura, the organizing platform, will finish collecting all the health data from the Love of Lesbian concert at the Palau Sant Jordi, and outcomes from the event will be shared publicly in a press conference next week.
Saturday marks two weeks since the concert without social distancing was held. All audience members and personnel working at the gig had antigen tests performed beforehand, while masks were also worn.
Should the outcome reveal lower infection rates at the event than seen among the general population, then the door could be opened to study new protocols that would make summer festivals possible.
Although summer festivals such as Cruïlla, Vida, and Canet Rock rely on the results of this experiment to be able to maintain this summer's editions, it will still be necessary to continue working with institutions to establish solutions and new methodologies to put on large-scale live music events.
6 positives and 4,994 negatives in antigen tests
Attendees authorized health officials to consult their medical records within 15 days of the concert to find out if they had been diagnosed with Covid-19. From here, the infections will be compared with those of the general population who did not attend the concert.
The only known data so far about the concert is that during the prior screening with antigen tests, six people turned out to be positive for the coronavirus, while 4,994 attendees tested negative.
The positive cases found were then given refunds to the concert and were not able to attend.
Culture as an exception to the county-level lockdown
The Catalan culture minister, Àngels Ponsa, said that the analysis of the concert-experiment would have a role to play in addressing "the immediate future of festivals."
In fact, the government is considering classifying tickets to shows or concerts as a justifiable reason to leave your county of residence despite the current confinement measures in place.
Culture minister Ponsa explained on Saturday that the demands of the sector have been heard and that the safety arguments to allow for it have been communicated to the department of health.
Ponsa is confident that in the middle of next week this exception to the county-level lockdown can be made. "We hope that in the coming days, if the data allows, we can talk about partially reversing this measure."