Price of Sant Jordi roses increases due to rising transport and energy costs
Flowers brought from South America are 50% more expensive, but shops will assume the extra amount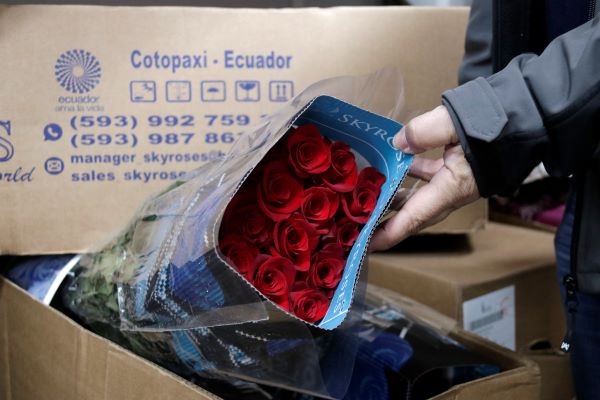 The flower of choice on Catalonia's day of romance, the rose, is more expensive than ever. On April 23, Sant Jordi, millions of Catalans will buy their loved ones roses to express their love. This year, they will pay for the flower at a similar price to previous years, but flower shops will earn less money.
Rising energy and transportation costs have pushed the amount florists are having to pay for roses by up to 20%. The vast majority of these flowers come from Colombia and Ecuador, while the rest arrive in Catalonia from the Netherlands and Kenya.
Despite the country of origin, there are several characteristics to check in order to choose the best rose on Sant Jordi.
The cost of transporting these roses has risen up to 50%, and the actual product has also become more expensive.
"In South America, there are fewer roses as a lot of plantations have closed. They have the same problem in the Netherlands, as production costs are really high because they use heaters," Joaquim Canal, Flower importer from Canalflor, said to the Catalan News Agency (ACN).
"Transportation costs have also increased, and therefore roses are more expensive, more so than in a normal year," he added.
Canalflor has been receiving several trucks full of roses ready for Sant Jordi for days. Some of these flowers cost double what the company paid last year. While in 2021, transporting one kilogram of roses was priced at €2, buyers are currently paying over €4.
Although trucks arrive full of roses, these need to be prepared and refrigerated ahead of the big day.
These flowers arrive in boxes, and "you can keep it in boxes between 4 and 5 days, but you need to hydrate them and keep them cold, as you cannot give the rose as it was when it arrived, because if it is not well treated the stem will bend and it cannot be sold," Canalflor explained to ACN.
To prepare a rose, shops will need to wrap them in plastic cones, decorate it with dried wheat, as well as some other labor involved. All these elements have increased their costs as well, including refrigeration of the flowers.
In Canalflor's flower warehouse, they "pay almost 65% more only for electricity, but the cost of boxes has also increased, and the same for plastics and plastic bags. It's everything, it has risen just like everywhere else," Joaquim Canal said.
Despite the increase, consumers will not bear the brunt, as while florist are paying more for their flowers, the retail price will remain constant.
With Sant Jordi such an important holiday in Catalonia, and flowers playing a key role in the day's festivities, six million roses are expected to be sold on Saturday.