Rising energy costs see inflation soar to record high in Catalonia
Prices up 9.5% compared to last year, an increase of more than two points over February's rate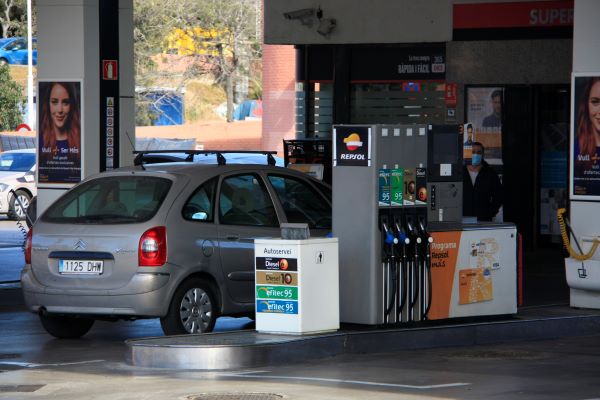 Prices in Catalonia are continuing to rise sharply. The inflation rate for March compared to the year before stood at a record high 9.5%, a rate more than two points above that recorded in February (+7.4%).
This is the sharpest increase since 2002, when Catalonia's price index was first collected by the National Statistics Institute (INE).
The INE attributes the rise in prices to the soaring energy and fuel costs, with price changes of 28.8% and 18.9% respectively.
Across Spain, the Consumer Price Index recorded a year-on-year rate of change of 9.8%, the highest since May 1985.
Catalonia's record-high inflation rates are largely attributed to the soaring cost of utilities – that is to say, water, gas, and especially electricity.
The cost of electricity has been making headlines since summer 2021 as an overreliance on polluting energy sources coupled with low natural gas reserves has forced prices to skyrocket.
Learn more about the cost of living crisis, fuelled by rising prices and exacerbated by the consequences of the war in Ukraine, by listening to our recent Filling the Sink podcast episode, which first aired in early April 2022:
All economic activities, with the sole exception of the communications sector, saw price increases in March. After energy and fuels, some of the biggest rises in prices were seen in food and non-alcoholic beverages (+6.4% year-on-year), clothing and footwear (+6%) and furniture and domestic items (+3.9%).
Prices also rose in the restaurants and hotels (+3.4%) and in the field of alcoholic beverages and tobacco (+2.9%), while health, education, and leisure and culture saw less significant increases of around 1.5%.
Communication, which includes telephone and internet services and the sale of devices such as mobile phones or computers, remains the only economic activity in Catalonia where prices continue to fall despite inflation records. In March, this sector recorded a fall in prices of 0.5% year-on-year and has now dropped for 21 consecutive months.
For Spain as a whole, the yearly inflation rate rose by more than two points compared to February, standing at 9.8% in March. The INE attributes this growth to a rise in the prices of electricity, fuels, and food primarily, which includes increases in the price of fish and seafood, pulses and vegetables, milk, cheese, eggs and meat.
Prices affecting Easter holiday plans
The rise in prices comes at a time that the hospitality sector had high hopes for the Easter holidays which will be enjoyed by people without restrictions after two years of the pandemic.
While experts say people will continue to travel despite rising fuel and energy prices, they think that many people will compensate for this by reducing spending during the holidays to adapt to the situation.
"Lately we are looking at prices with a magnifying glass because with €100 you are not going anywhere," some consumers say.
Energy bills, petrol prices, and the weekly grocery shop are all increasing in price at the same time, leaving less money to spend on recreational activities. Graciela, a resident of the Barcelona neighborhood of Sant Antoni, told the Catalan News Agency that she "sees it with all the basic products, they are going up cent by cent," but at the end of the month, she explains that this adds up to a huge impact.
"The price of fruit and vegetables is outrageous," added Tina, another neighbor of the same neighborhood. For her, price increases became very evident two months ago, and she says she's had to change her consumption habits in recent weeks, buying "only what is needed."
In the same vein, Albert, another resident of Barcelona, ​​explained to the Catalan News Agency that he is becoming "more and more conscious and consistent" with his spending.
Looking ahead to Easter, experts predict that record inflation rates will continue to affect some household consumption. "We have to think that a rise in prices close to 10% makes us lose a lot of purchasing power. From here, the impact will depend on the budgetary constraint of each person," UPF Barcelona School of Management professor Andrei Boar explained to this news outlet.
However, Boar believes that the effects of inflation on travel and holidays will be limited. "Traveling these days is more expensive than a few months ago, but it is clear that people who want to get away will still do so," he said.
In fact, Boar says that most Easter trips were booked before inflation soared, so a drop in movement is not expected. "The forecasts for full employment in the hospitality sector will surely be met," he said.
Nevertheless, the UPF professor sees a change in people's consumption habits once they are on holiday. "People will look for cheaper products" he estimates, adding that he thinks consumers will "restrict" purchases of more expensive goods. One of the consequences could be that tourists reduce the number of meals they eat in bars and restaurants and choose to buy food directly from supermarkets, he says.