Not even coronavirus can stop Sant Jordi's Day
Book and flower sectors to move celebration of love and reading from April 23 to July 23, with activities to do "at home" on patron saint's day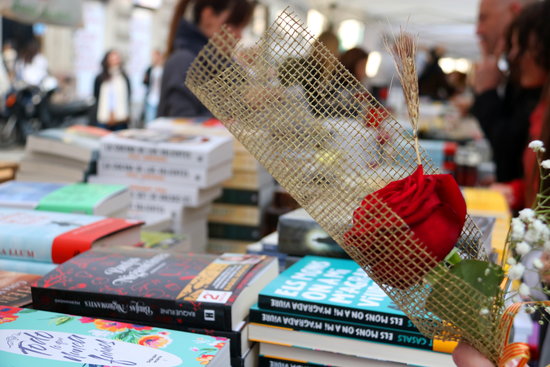 Every April 23, streets and squares all over Catalonia are filled with stalls selling books and roses as people come out in honor of the country's patron saint, Sant Jordi (Saint George).
However, this year, what is one of Catalonia's most popular annual celebrations is among the many events canceled or postponed due to the ongoing Covid-19 health crisis.
Yet, fans of Sant Jordi's Day should not despair, as the associations representing Catalonia's book and flower sectors announced on Tuesday that this year's festivities will now be held on July 23 instead.
Although the new date for Sant Jordi is still three months away, the two associations assume that "social distancing measures will still have to be heeded to protect everyone's health" in July.
And nor have the book and flower sectors completely given up on the patron saint's actual day on April 23, and they are encouraging people to celebrate Sant Jordi's Day "at home."
Books and roses available online
Sant Jordi's Day revolves around the tradition of loved ones exchanging a book for a rose, and the book sector points out that while bookstores may be closed, books can still be purchased from their websites.
A few weeks ago, the Som cooperative and the Mortensen agency launched the #LlibreriesObertes campaign calling on readers to pre-order books during the coronavirus confinement.
The aim of the initiative is to sell 30,000 books, with the money being advanced to bookstores to help them survive the current lockdown, with the readers collecting their purchases once the restrictions are lifted.
Meanwhile, the florists want people to have roses sent to the homes of their loved ones. The #rosadesantjordiacasa campaign includes some 110 florists, who are aiming to sell 300,000 roses, 5% of the usual number sold.
In fact, the flower sector has also called on people to decorate their balconies and streets on April 23 and to celebrate Sant Jordi's Day with their families by doing activities from their balconies.
As for the book sector, it is promoting a campaign under the hashtags, #Senseparadesperosenseparar and #llibresalaire, calling on people to go on to their balconies or patios at midday and 6 pm to read out loud.