Online project aims to help local bookstores through advanced sales
#LlibreriesObertes links sellers and readers with objective of 30,000 books sold that can be picked up after coronavirus restrictions lifted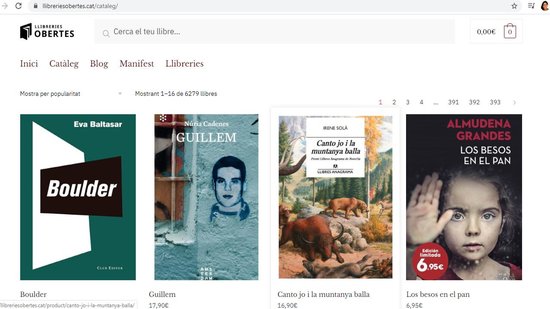 A platform connecting local bookstores and readers to pre-order books during the coronavirus confinement that can be collected from bookshops once the restrictions are lifted is a new initiative from the Som* cooperative and the Mortensen agency called #LlibreriesObertes.
LlibreriesObertes.cat is a website with more than 6,000 new books from 2019 and 2020, from over 500 publishers, and the aim is to sell 30,000 books, with the money being advanced to bookstores to help them survive the current lockdown.
"We want this to help as many booksellers as possible," the head of the Mortensen agency, Josep M. Ganyet, said during a virtual presentation on Monday. "If we get close to the objective, it will have been a success," he added.
In March last year, Catalan bookstores sold some 800,412 titles. That means that every day that goes by under the coronavirus restrictions, sellers lose 30,785 book sales, which is why the initiative has set this number as its objective.
In its first 24 hours, the #LlibreriesObertes campaign has managed to sell 1,000 books.
The Mortensen agency has supplied the technological know-how for the project, and the Som* cooperative, which is made up of five cultural cooperatives: Ara Llibres, Sàpiens, Batabat, Contrapunt, and Nova 2003, has provided the links with the book sector.
A go-between for readers and bookstores
The #LlibreriesObertes platform acts as an altruistic go-between for the readers and the bookstores, with the total amount spent by the customer going to the bookseller, allowing them to "stay open" until they can order and hand over the books.
So far, around a hundred local bookstores in Catalonia, Valencia, and the Balearic Islands have signed up to the platform, and the organizers say they have enough capacity to cope with a very high level of demand for books.
When visiting the website, the reader looks through the catalog of new books, chooses which title they want to buy, and then selects the bookstore that they want to buy it from, with a view to picking it up from the shop in a few weeks' time.
The organizers say the project does not include the participation of any book sector associations or public institutions, because they want to get the platform up and running as soon as possible, as "every day counts."
"We are in exceptional times, society has to mobilize," said Joan Carles Girbés, Som*'s editorial director and president of Catalan Book Week, who added: "Beyond promoting reading, we must take action to cover turnover."