Celebrating Catalan literature: Book Week back for 37th edition
Bookstores and publishing houses showcase large selection of Catalan-language titles and translations in Barcelona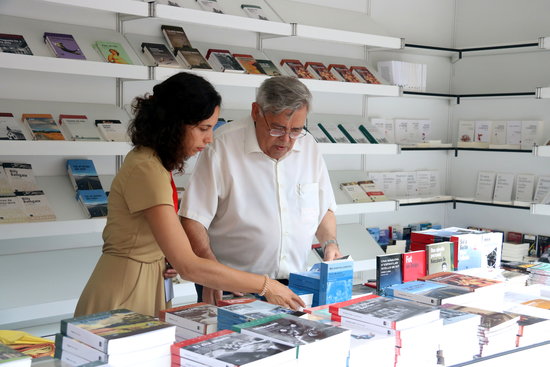 The Catalan Book Week, or 'Setmana del Llibre en Català', has been held in Barcelona since 1983, and this year's 37th edition is no exception.
From September 6 to 15, the square in front of the Catalan capital's Cathedral is bustling with stalls carrying a large selection of Catalan-language titles, but don't be weary if you don't yet speak the language – you can always find translations into a number of different languages at stand 17, which is run by Institut Ramon Llull and the city's emblematic Jaimes Bookstore.
Aside from browsing through the many books on sale and finding your next good read, there are also another 250 events for both children and adults to partake in, from book presentations to readings and signings.
While the book fair celebrates Catalan literature and culture, it still has a distinct international flavor. This year's guest author is world-renowned Swedish writer David Lagercrantz, internationally recognized for his book 'I am Zlatan Ibrahimović' as well as the 'Millennium' saga's latest installments following Stieg Larsson's death.
Furthermore, the Institut Ramon Llull, which promotes Catalan culture abroad, is also hosting the annual Making Catalan Literature Travel for International Publishers and Agents program, and this is the 3rd time that they do so as part of the Catalan Book Week.
As part of this program, publishers and agents come from abroad to participate in conferences on the Catalan literary sector, fostering knowledge and exchange with people from all over the world. This year, guests from 16 different countries will also get to visit local bookstores and network with writers, illustrators, local officials and culture journalists.
If you're interested in learning more about local literature, in both Catalan and other languages, be sure to head to the fair before Sunday!