Carnival in the time of Covid-19, Catalonia keeps the party alive
With many restrictions still in place, here is a lowdown of all that is still possible this festive season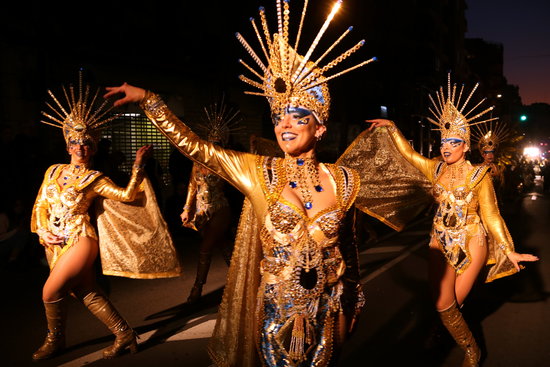 The carnival in Catalonia usually consists of massive meringue fights, concerts, bed races, parades, parties and, all in all, seven days of pure and total fun with your neighbours.
An excuse for Catalans to let loose and eat lots of good food, the carnival falls just before the harsh boundaries brought in by the Christian holiday of Lent, which means this year it will start on Thursday 11, or fat Thursday.
With the Covid-19 pandemic forcing measures that prevent, well, nearly everything the carnival is about, what is still possible this festive season in Catalonia, and how can you enjoy these seven days of fun safely?
Dijous Gras or Fat Thursday
The carnival kicks off on 'Dijous Gras' or Fat Thursday in English, a day where indulging in fatty foods is allowed and even encouraged.
Now, this is one event we can all take part in from home. Get out your cooking utensils and the main ingredient of the season: eggs!
From egg sausage (botifarra d'ou), truita (egg and potato omelette), and coca de llardons, a dessert made from pork fat, there are many traditional carnival recipes to keep all cooks well entertained.
If you find yourself in Vilanova i la Geltrú, a seaside town south of Barcelona that holds one of the most attended carnivals, you will be able to dabble in making your own truita, or even the town's own dish of xató, a combination of salad, olives, sardines, and more.
The organizers of this year's online carnival are organizing a social media competition to find the best xató in the city, all it takes is to upload a picture and hashtag it #xatoacasa i #elmesimporantesviure to enter.
L'arribada or the king's arrival
Many of the carnival events surround the carnival King, the leader of the festivities. His arrival is usually accompanied by floats, costumes, and street parades, with the taronjada - a throwing of oranges, which has been replaced to a less messy fall of orange confetti.
In Barcelona, the King will still arrive followed by his seven minions, all named after traditional Barcelona districts, to help him with his mischief. The organizers will be conducting an opening event titled "K'arriba l'Arribo!" with dance and music included that you will be able to catch online.
Most big Catalan festivals such as Vilanova and Sitges, just north of Vilanova on the coast will be offering an online covering of all the festivities and carnival royalty are urging you to come and witness this arrival for yourself.
How to keep the festive spirit alive
The party atmosphere, which is usually in full-swing by the weekend of carnival, will be slightly dampened this year.
Nonetheless, in Tarragona, the townspeople are not letting Covid-19 be an excuse to skip the costumes this year, with a contest amongst shopkeepers for the best costume and decorations in shop windows.
In Barcelona, individual neighborhoods have managed to keep some of the season's traditions alive, and around a hundred events will take place throughout the city. Community centers will be holding concerts, exhibitions, and workshops to make up for the loss of street parades, and the Gracia neighborhood are organizing a mask customization contest - a sign of the times.
Smaller Catalan towns are also getting in on the fun, with Santa Cristina d'Aro, on the north-eastern coast of the country, is organizing a costume contest where adults and children can enter to become the king and queen of the carnival. With €300 and €100 euro prizes up for grabs, make sure to have your best royal dress at the ready!
Unfortunately, the weird and wacky celebrations like the Vilanova meringue fights, the (fake) donkey hitting in Solsona and the bed races in Lleida as well as the Reus confetti fights, will not go ahead this year due to the preventative Covid-19 rules currently in place. However, there are no rules against throwing meringues at anyone within your household bubble, so there is no reason to let traditions die hard!
At school, students usually make the most of carnival by dressing up everyday. One day a class might have to all wear the same odd pair of socks, and the next a certain colour hat, so kids might enjoy one tradition that Covid-19 can not touch, as schools are still open.
The burial of the sardine
All festivities will come to a close, with the traditional burial of the sardine … yes you did read that right, the burial of the sardine.
After his seven days of debauchery and all-in-all deviant behaviour, the king of the carnival is judged and condemned to death on Ash Wednesday in a satirical funeral procession.
So where do the sardines come in? Well, often at the end of the festival it is not the king who is burned but rather a big sardine. Online, a range of carnivals such as Vilanova's, will be replaying past years' processions, so you can relive the fun from home.