BCNegra 2015 crime book festival welcomes bestsellers Sue Grafton, Anne Perry and Philip Kerr
The crime literary festival BCNegra will celebrate its 10th anniversary in Barcelona from 29th January to 7th February with distinguished authors, such as the British and American thriller writers Anne Perry and Sue Grafton, as well as the Scottish author Philip Kerr. This year's edition, with a 40% increase in its budget, which rises to €140,000, will be held for the first time at the Liceu Conservatory and will offer more than 50 activities. The event will gather together almost 70 renowned writers from all around the world and will award the Spanish crime fiction author, Alicia Giménez Bartlett, with the 10th Pepe Carvalho Prize, named after the famous detective created by Barcelona-born Manuel Vázquez Montalbán.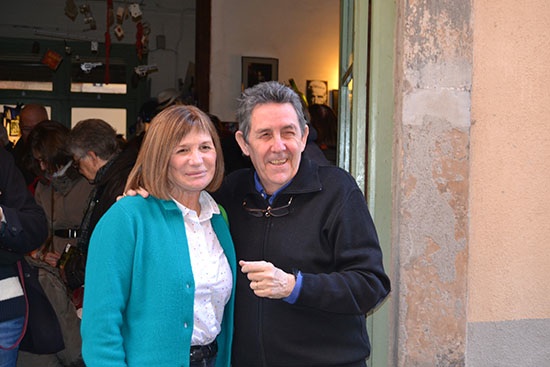 Barcelona (ACN).- Barcelona is getting ready for the crime literary festival BCNegra 2015, which will celebrate its 10th anniversary from 29th January to 7th February. Almost 70 published authors from all around the word will participate in this year's edition that will reward the Spanish writer Alicia Giménez Bartlett for her experience in the field of crime fiction with the 10th Pepe Carvalho Prize, named after the famous detective created by Barcelona-born Manuel Vázquez Montalbán. The festival, with an increased budget of €140,000, will be held for the first time at the Liceu Conservatory and will offer more than 50 activities. Anne Perry, Sue Grafton and the Scottish writer Philip Kerr are just some of the distinguished authors participating in the city's crime literature week.
Barcelona is one of the main European capitals of crime fiction. Important writers, such as Vázquez Montalbán, who penned the Pepe Carvalho series, have projected the city by following the footprints of their characters.
The crime novel is a fertile genre in Catalonia. The 52% growth in last year's BCNegra attendance is the best evidence of the moment the genre is currently going through. Nearly 10,000 people visited the festival in 2014 and the organisers expect an even bigger public to visit this year's edition. Thus, BCNegra has shifted its venue from La Capella, located in the historic Raval neighbourhood, to the Liceu Conservatory, also located within the old town.
The City Council has increased the festival budget, from €100,000 to €140,000, as a response to last year's audience figures and to give support to the troubled editorial sector. Barcelona's Deputy Mayor for Culture, Jaume Ciurana, believes that this investment will help to consolidate the city as a "literary capital".
International authors
Forty publishing houses and more than 100 guests, including 70 writers, as well as journalists, criminologists, police officers and psychologists will participate in this tenth edition. Although Catalan authors will play a significant role in the festival, the overseas crime literature scene is very well-represented.
Internationally renowned novelists on the list include the British thriller writer Anne Perry and the American Sue Grafton, who will speak on her "alphabet" mystery series and her latest 'W is for Wasted'. Other leading authors scheduled to make an appearance include the Argentineans Tatiana Goransky, Ernesto Mallo and Claudia Piñeiro; and the Italians Donato Carissi, Roberta de Falco and Antonio Marzini, to mention just a few.
Moreover, the BCNegra 2015 will embrace the premiere of the latest 'January Window' by the Scottish best-selling writer Phillip Kerr, who has left his main character, the celebrated detective Bernie Gunther, to one side to present a thriller set in the English Premier League.
This popular festival, akin to an informal and friendly meeting, not only attracts die-hard thriller fans who want to see their idol in the flesh, but a wider range of people by offering everything, from live music at the Barts Hall on February 6th, with Barcelona Big Blues Band, to film noir screenings at the Filmoteca de Catalunya (Catalonia's Cinemathèque).
The Festival Awards
The BCNegra 2015 will kick off on 29th January with the sixth edition of Crims de Tinta (Ink Crimes), an award that this year has 40 entries and which aims to normalise the Catalan crime novel genre.
On 5th February, the writer Alicia Giménez Bartlett (born in the Spanish city of Albacete in 1951) will receive the 10th Pepe Calvalho Prize, a tribute to the memory of the Catalan writer Manuel Vázquez Montalbán and his famous detective at the Barcelona City Hall.
In previous editions, authors such as Andreu Martín, Ian Rankin, Michael Connelly, P.D. James, Henning Mankell, Francisco González Ledesma, Petros Márkaris, Maj Sjövall and Andrea Camilleri have all won the prestigious award for their life-time work.
Alma mater of the festival and member of the jury that unanimously selected Alicia Giménez Bartlett as the winner, Paco Camarasa, believes that the ground-breaking writer deserves this award because she was the first to choose a female protagonist, back in 1996. She "paved the way for other authors to do so", he said during the premiere of the author's latest book 'Crímenes que no olividaré' ('Crimes I would not forget'), at Paco Camarasa's Negra y Criminal bookshop last weekend. Through her main character, Petra Delicado, "Alicia has introduced the reader into an off the beaten track Barcelona, a difficult goal because the city has been portrayed in numerous novels", he added.
A prize for an "old shining light"
Alicia Giménez Bartlett has lived in Barcelona since 1975 and has participated in every single edition of the BCNegra festival. Therefore, she is not afraid of admitting that this award is "really special" because it is given in her city and at a festival that she has seen grow. "It is a personal honour that has filled me with joy", she said after the book signing on Saturday the 24th.
When asked why she deserved this recognition, she unabashedly said that she is an "old shining light". "I am growing old and they have rewarded me because I remain active and am ready for whatever may come", she added with a roguish smile on her face.
Although her latest book, 'Crímenes que no olivaré', is a compilation of stories, some of them already published in Italy and Germany, with Petra Delicado and her loyal assistant Fermín Garzón as the protagonists, the writer is now working on a novel that escapes the crime genre. "I have many stories to tell and a wide range of topics that unexpectedly burst into my head", she said.
However, much to her fans relief, she promised to continue with the Petra Delicado series: "I would stop writing about her when I realised that this type of woman is no longer in contact with the street".
What will the future bring to this peculiar detective? Alicia has not made a decision yet… "I will not kill Petra Delicado, but maybe I will make her become a nun". "This would be amazingly received in Europe", she joked.