Barcelona Primavera Sound 2023 up in the air as festival organizers consider other cities
City council open to meeting to discuss future of event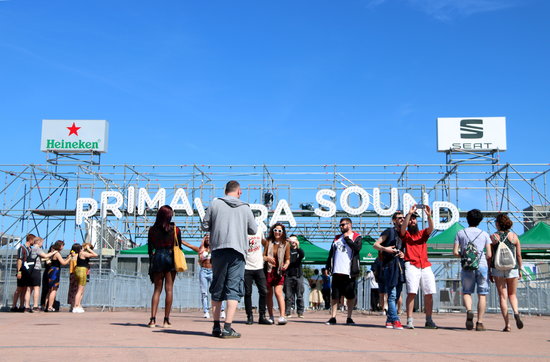 Primavera Sound, the annual festival that has brought the world's best musical acts and their many fans to the Catalan capital since 2001, could soon be leaving Barcelona.
A staple of the Barcelona festival scene, director Gabi Ruiz told La Vanguardia newspaper that while the 2022 edition will most definitely take place at the Parc del Fòrum seafront location as planned, the 2023 edition is far more uncertain, and added that other cities were already being considered for the event.
According to him, renting the venue is now "17 times" more expensive than before, and he complained of the council "not making any efforts" to find a solution.
"We'll do the festival in 2022, but we'll see about 2023," he said. "I don't think there will be a Primavera 2023."
Primavera Sound has already opened an office in Madrid, a city Ruiz describes as providing "more opportunities not only musically but with the audiovisual sector in general."
According to Ruiz, BSM, the city council's municipal services company, sent the Primavera Sound organizers a letter telling them to "not even think of booking musicians for 2023."
The council, he said, does not allow events to be held at Parc del Fòrum on certain days so as to not bother local residents and has "unilaterally" increased the number of them. Ruiz explained that when he requested to hold the festival in 2023, he was told there were no more dates available for events.
Whether this will be possible or not now depends on the Sant Martí district councilor, David Escudé, and Ruiz said the organizers need a response "by the end of the year."
Primavera Sound 2022
Primavera Sound will return to Barcelona in 2022 bigger than ever after calling off the 2020 and 2021 editions, with over 400 artists performing over the course of the first two weekends in June.
Headliners include the likes of Tame Impala, The Strokes, Jamie XX, Jorja Smith, or Megan Thee Stallion.
The festival will also travel to Santiago, Buenos Aires, São Paulo, Los Angeles, and Porto next year.
Council says city cannot lose festival
"Primavera benefits the city too much and vice versa for us to not reach an agreement," Jordi Martí, Barcelona's councilor for culture, said in response to the La Vanguardia interview.
According to him, the council had only agreed to a 2-weekend festival in 2022 because the previous two editions had been canceled, although he said it would not be a "red line" preventing both parties from reaching an agreement.
Martí said he was open to meeting with the organizers before Christmas, but also stressed the importance of taking into account that Barcelona is "Europe's densest urban area" and, therefore, high volumes of people coming in for the festival is likely to disrupt the day-to-day life of residents.
The councilor did not address allegations that rent was now "17 times" more expensive, but said that if the festival did end up leaving, "it wouldn't be because of the rent."
Escudé, meanwhile, defended his position by arguing that he had simply been acting as a mediator between his district's residents and the festival directors.