Atypical Sant Jordi with not much atmosphere in areas with Covid-19 outbreaks
Books and roses day with fewer customers and stands but tight safety measures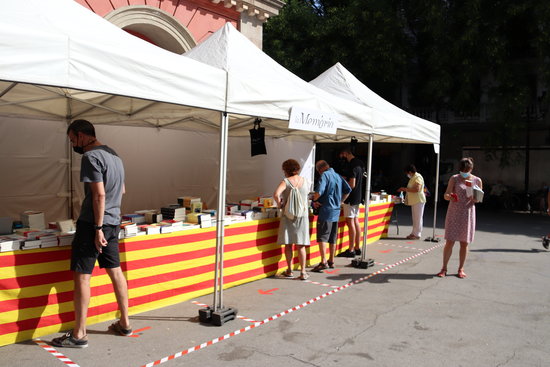 Catalonia's delayed Sant Jordi celebration on Thursday saw none of the usual crowds and sea of book and rose stalls, book signings, and business.
The attempt to make up for the sales lost by booksellers and florists three months ago was hampered by the latest Covid-19 outbreaks in the Lleida region and the Barcelona metropolitan and Figueres areas.
Turnout varied depending on the region, with areas more affected by new coronavirus cases seeing fewer people out than in the rest of Catalonia.
Barcelona's most iconic boulevards are usually the heart of the annual celebration of books, roses, and love, with thousands of people flocking to the streets to browse through works on sale, queuing to get their book signed by their favorite authors, buying all sorts of roses or simply going for a stroll.
The official April 23 Sant Jordi's Day was postponed due to the lockdown in place at the time, but this time around festivities were not the same as usual either.
Unlike on normal Sant Jordis, where it is not possible to avoid the commotion, on Thursday businesses' and associations' displays were much smaller. Some 70 bookshops placed stalls right outside their doors, not on the main streets, down from the roughly 1,000 on a usual April 23. The atmosphere was also much more relaxed, free of crowds of people attempting to see the most famous writers of the moment.
For a big part of book vendors, July 23 was actually not all that different from a normal day.
And while on normal Sant Jordis you can also buy roses on, quite literally, most city corners, on Thursday florist's saw an only slightly higher than average number of customers.
The president of the Florists Association, Joan Guillén, complained of the "confusion" generated by the government's latest measures to prevent the spread of Covid-19, which according to him, negatively impacted the celebration.
'Watered-down' celebration
Elsewhere, there was a "watered-down" celebration in Lleida, as the director of Pagès Editors publisher, Eulàlia Pagès, put it. Some book signings were able to take place by appointment, but overall there were very few summer Sant Jordi initiatives.
In Figueres, a northeastern town that has experienced recent Covid-19 outbreaks, hardly any business celebrated the day outdoors either, in following with the government's general recommendations.
However, in other towns, such as Tarragona and Tortosa in southern Catalonia, the day was livelier in the main points with stalls but with strict safety measures, including queues with safety distances between people and temperature checks.