No books, no roses, no crowds on Sant Jordi's Day 2020
Catalonia's streets were unusually quiet on April 23 as health restrictions forced people to celebrate the country's saint's day from home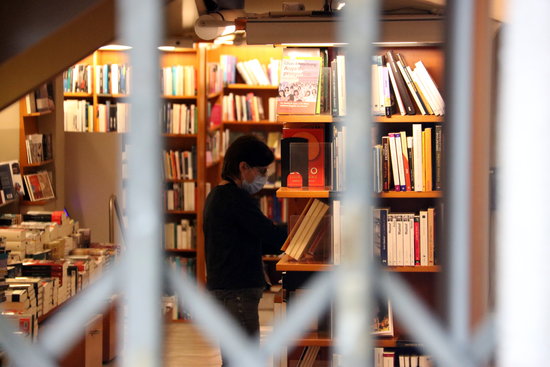 Go to any town or city in Catalonia on April 23 and you will find the main streets and squares bustling with crowds of people browsing stalls selling books and flowers as the country celebrates one of its most popular festivities of the year: Sant Jordi's Day.
This year, however, there are no stalls, no authors signing their books, no couples hand-in-hand out for a stroll, no groups of school children selling roses to help fund their end-of-year trip abroad. This year, the streets of Catalonia were empty.
This year, Catalonia is under lockdown due to the coronavirus pandemic that has swept the world, and Sant Jordi's Day, the day devoted to romance and reading, when loved ones traditionally exchange a book for a rose, has been postponed until July 23.
In Barcelona, La Rambla, Rambla de Catalunya, Portal de l'Àngel and Passeig de Gràcia are normally the most frequented streets in the city center on Sant Jordi's Day, but on Thursday they offered an unprecedented image of emptiness and silence.
The few pedestrians to be seen in the center of the Catalan capital mostly wore face masks and almost none carried a rose, while landmarks, such as the Sagrada Família or La Pedrera, which would usually be adorned with flowers, looked desolate and were closed.
Empty streets in Catalonia's main cities
It was a similar story all over Catalonia. In the western provincial capital of Lleida, the Eix Comercial, the nerve center of the annual celebration, was practically empty, as was the Rambla d'Aragó, which would normally be thronged with people on Sant Jordi's Day.
In Catalonia's southern main city of Tarragona, on the city's main artery of Rambla Nova, every year the epicenter of the festival devoted to books and roses, a few people in masks queued at a newsstand. "We don't sell roses here," says the newsvendor.
Meanwhile, under gray skies, La Rambla of the northern city of Girona was equally deserted on Thursday, without any trace of bookstalls, roses, much less people, while the shutters of the city's bookstores were pulled down and locked.
Yet, not everyone completely gave up on celebrating Sant Jordi's Day this year, as there were balconies to be seen in most places adorned with roses, flags, and drawings as some people were determined to keep the spirit of the festival alive.
Celebrating Sant Jordi from home
Confined to their homes because of the health restrictions, many people celebrated the day online, with many bookstores and florists making home deliveries, as well as a host of activities and resources offered on websites and social media.
The public authorities, too, encouraged people to celebrate. In Girona, for example, the municipal libraries posted 40 reading proposals from well-known figures in the form of videos that could be viewed on the city hall's YouTube channel.
In Lleida, the council advertised activities on social media, such as a trivia quiz on Instagram, while the city's Twitter users used the handle @paerialleida to explain 'The Book of My Life', or write collaborative stories in tweets with the hashtag #lleidaviusantjordi.
Similar initiatives took place all over Catalonia this April 23, in towns and cities whose streets may have been unusually empty of people because of the health crisis, but whose residents managed to celebrate Sant Jordi's Day 2020 in whatever ways they were able.