'Alcarràs' adds Catalan Oscars to successful run as 'Pacifiction' also wins big
Actors and filmmakers agree that Catalan cinema is 'in great health' but needs more funding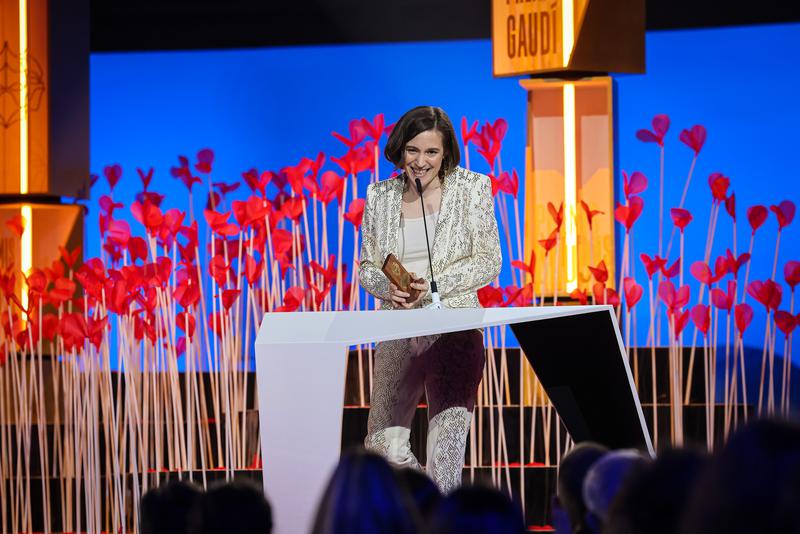 'Alcarràs' added more glory on Sunday evening in the Gaudí awards, the so-called Catalan Oscars, organized by the Catalan Academy of Cinema.
Held at the Catalan National Art Museum (MNAC), in Barcelona, the winner of the 2022 Golden Bear in the Berlinale won five prizes, including the highest-ranking ones: best film and best director, for filmmaker Carla Simón.
'Alcarràs' also won the best original screenplay, the best production supervision and the prize of the audience.
Her film was a success not only in festivals, but also in the box office – it also became the third Catalan-speaking film that has made it to the Oscars race after being Spain's bid in the international category, although it was not shortlisted.
Talking to Catalan News, Simón said that at the beginning, the success of her film came as a surprise. "It was a local story and suddenly we realized that everyone can relate to it."
"It's about a family, and everyone has family, it's about agriculture, and every country does some kind of agriculture."
"There are a lot of demonstrations people that are trying to do agriculture and small businesses happening around Europe, and also Latin America." For her, this is why people around the world "can feel this film is talking about them as well."
Prizes quite evenly distributed
The success of the film telling a story of a struggle of rural life in western Catalonia in modern times was shared with that of 'Pacifiction,' by Albert Serra, also with five awards.
This thriller set in the exotic coast of French Polynesia, which competed for the Palme d'Or in Cannes, won three awards: the best film in non-Catalan language, art direction and photography.
The 15th edition of the Gaudí awards were quite evenly distributed among the favorites: 'Un año, una noche' also won five prizes, including best adapted screenplay and best editing.
On the red carpet, its director, Isaki Lacuesta, told Catalan News that "it is a film based on a real story of a couple who went to Bataclan, the concert where the attacks in Paris [in 2015 took place]."
"And their lives changed absolutely. It's a film about how we want to live, if we're sure we're living the way we want. It's a love story, they discover they are different people after the attack, and they are trying to discover who they are now."
'Suro' won three awards, including the newly created best novice director, and both best male and female actors, for Pol López and Vicky Luengo.
"This is a story of fear and love, which explains how a couple ends up breaking up because their aspirations cannot be complied," said Luengo to Catalan News. "The micropolitics of the couple and the tension of including what we want to be and what we cannot promise we will be."
'Catalan cinema in great health but very few people attend theaters'
Other prizes include best supporting actor for Alex Brandemühl, for 'Stories not to be told,' who agreed with others in saying that "Catalan movies had a very good year in terms of festivals."
"They have won prizes and had good reception. Catalan cinema is starting to connect with the audience, not only the Catalan audience but all around the world," he told Catalan News.
Luengo agreed with him: "We have great films, Catalan cinema is in great health. But I think we should defend it more. We stand for cinema in Catalan, but when it's in theaters, very few people attend."
Lacuesta also welcomed the good year for Catalan movies talking to this media outlet. "I think the big value of Catalan cinema, and cinema around the world, is the diversity."
"This ceremony is evidence of that; a lot of different cinema, young people, old people, commercial, house, and artistic cinema."
Agustí Villaronga remembered hours after passing away
The gala was a tribute to Agustí Villaronga, the famed Mallorcan filmmaker who passed away on Sunday morning.
He was in charge of 'Pa Negre,' a very successful movie that went on to be the first Catalan-speaking one to be picked by the Spanish Academy of Cinema for the Oscars race.
During the event, he received a minute-long standing ovation. The president of the Catalan cinema academy, Judith Colell, said that Villaronga "was one of the big names, not only of Catalan cinema, but the European one."
Several people awarded with Gaudí prizes have also dedicated their success to Agustí Villaronga.