A successful Sant Jordi, despite the pandemic
Book and rose vendors pleased with sales as good weather brings people out to celebrate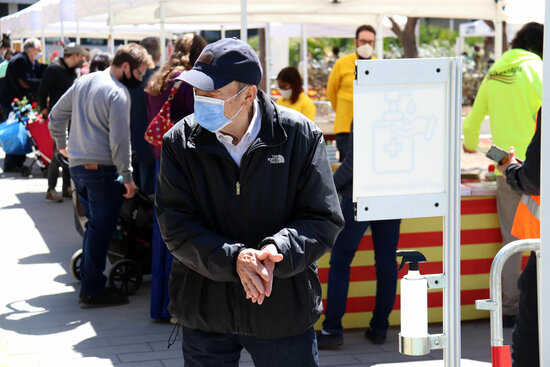 A year after a disastrous Sant Jordi, when Catalonia and much of Europe were grappling with a mounting Covid-19 case count and strict home confinement orders, Catalans have eagerly taken to the streets to celebrate the day of books, roses and romance with, of course, health and safety measures in place to prevent excessive crowding and the spread of the virus.
And with the good weather encouraging people to get out and enjoy the day, book and rose vendors are feeling cheerful about sales on Catalonia's patron saint day. All in all, some four million roses and 1 million books were sold at the stalls lining Catalonia's streets and squares for Sant Jordi—a better than usual figure for florists who attribute their success to the fact that only designated flower sellers were present this year.
Excitement after a difficult year
"Last year there was nobody out," Alba Delgado told Catalan News in Barcelona. "It's strange, but it's nice to be here and to be able to celebrate this year."
Delgado was not the only excited passer-by Catalan News spoke to on this special day. Eulàlia Gómez, for one, extolled what she described as "the energy of this day," adding that she was "really happy to be here." "We also do this in Mallorca, where I'm from, but it's not that big," she said.
Yet, while more people than last were out to take part in the festivities, the pandemic remained an inescapable reality. Most book and rose stands were located in closed-off outdoor areas with capacity limits and copious amounts of hand sanitizer.
This significant change meant that Barcelona's iconic La Rambla boulevard, usually bubbling with Sant Jordi activity on a normal year, did not host any stands at all this year. Instead, the nearby Plaça Reial was one of the city's designated cultural hubs for the day.
Some people, however, decided against venturing out into the crowd at all and opted for a risk-free Sant Jordi at the hands of delivery couriers. Barcelona's Casa del Llibre bookstore had around 50 orders through this system on Friday morning alone.
Sant Jordi 2021 best-selling authors
This year's top Catalan-language fiction writers were Xavier Bosch with 'La dona de la seva vida' (The woman of his life), Jaume Cabré with 'Consumits pel foc' (Consumed by fire) and Maria Barbal for 'Tàndem'. Oriol Mitjà's 'A cor obert' (Open heart), the late Arcadi Oliveres' 'Paraules d'Arcadi'(Arcadi's words) and Albert Om's 'El dia que vaig marxar' (The day I left) were the most successful in terms of non-fiction.
"I've written scientific papers before," Mitjà told the Catalan News Agency on Friday. "But this is the first time that I'm signing books in public."
As for Spanish-language authors, fiction writers María Dueñas' 'Sira', Javier Cercas' 'Independencia' (Independence) and Javier Castillo's 'El juego del alma' (The game of the soul) were in the highest demand, while Paz Padilla's 'El humor de mi vida', Irene Vallejo's 'El infinito en un junco' (Infinity in a reed) and María Belmonte's 'En tierra de Dionisio' (In the land of Dionysius) topped non-fiction sales.